Stanford University Athletics Uses Virtual Reality to Get Fans Pumped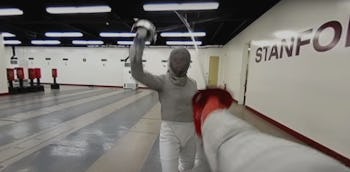 Stanford University
Over the past year and a half, Stanford University's athletics department has been teaming up with its video team to throw fans right in the middle of their NCAA sports teams with the help of virtual reality.
As SportsTechie reports, the experiment began with a game day virtual reality experience of Stanford's football team from December 2015, and Stanford most recently put up a virtual reality experience that pits the viewer against two members of the fencing team.
The fencing is a bit goofy and the athletes are clearly having fun with the project, showing the lighter side of one of the sport's best collegiate teams.
At one point, they even have one fencer stand behind the camera and hold his sabre out, acting as the audience during a blade-work drill. After that, the fencer facing the camera begins an all-out attack against the camera, showing the audience what it looks like to be in the center of the action during a fencing tournament.
Other videos, which include a women's volleyball practice and the football team running onto the field, are designed to show Stanford students and fans what it's like to be part of the team.