Google Wants to Send You to a (Virtual) Galaxy Far, Far Away
Google announced stronger and faster open source VR tools today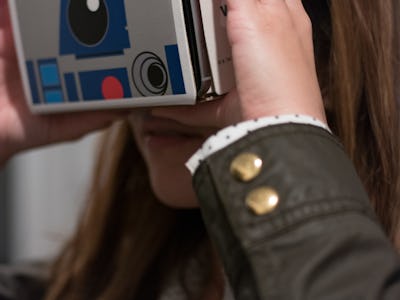 Flickr / nan palmero
Google announced a partnership with the Lucasfilm company ILMxLAB Thursday during I/O, Google's annual developer conference.
Using a new rendering tool called Seurat (named after the French post-Impressionist painter, of course), ILMxLAB and Google developed a way to render cinematic-quality virtual environments in real time, something that had previously been well out of reach. Seurat comes out later this year.
Andrey Doronichev, Product Manager at Google's Daydream, took the opportunity to show off the virtual world-building using Lucasfilm's best-known creation, Star Wars.
Doronichev showed how the team recreated a scene from Rogue One, comprised of 50 million polygons and resulted in a 30-gigabyte file. Using Seurat, they could render the environment in 13 milliseconds what would have normally taken an hour.
Seurat, which uses Daydream 2.0 Euphrates — an update to Google's VR platform that was also announced today — takes a scene with high-quality and detailed graphics and shrinks it down to a smaller volume that can run in real time on a phone. Supposedly, the final result is just as detailed and immersive as the original environment, it's just been manipulated into a more manageable size, said Doronichev.
With an unconfirmed rumor that Google has partnered with Disney to create an A.R. attraction for the Star Wars-themed portion of Disneyland that will open in 2019, it's possible that these virtual Star Wars environments could be used to make good on Disney's promise to throw visitors into the fray of a battle between the First Order and the Resistance.
A YouTube Virtual Reality App is Coming
Also announced Thursday was an upcoming feature in YouTube's VR app that will allow multiple users to watch the same immersive videos at the same time in a shared environment, which will be released later this year.
Google is also planning on releasing new features — and developer tools for programmers — that will integrate web browsing into VR-capable cell phones and their new standalone VR headset which will become available at the end of the year. Google envisions that by using their WebVR, people will be better able to size the clothes and furniture they buy online by projecting it onto themselves or into their homes.
The announcement of these new features and open source code is what Google sees as providing the building blocks to boost the field of immersive computing. Their goal, said Clay Bavor, the head of VR at Google, is to "allow computers to work more like how people do."