iPhone 8 is So Highly Anticipated It's Causing Markets to Slow
Companies are holding back.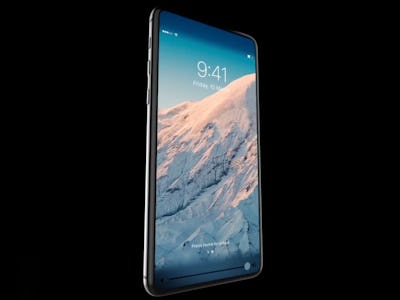 Nahuel Tube/YouTube
The iPhone 8 hype is reaching a fever pitch. Apple's next smartphone, rumored to debut in September, is so highly anticipated that competitors are scaling back on chip orders from manufacturers. The phone, set to launch in the tenth year of the iPhone's existence, is expected to bring a number of advancements to the line, like a dual lens camera, 3D facial recognition scanning, and a 5.8-inch OLED screen that offers deeper blacks than previous LCD-based models. It's going to bring some big changes, and that's got other companies spooked.
A report from DigiTimes published Monday claims that firms including semiconductor companies MediaTel and HiSilicon have seen a "disappointing" number of orders for non-Apple smartphone chips in the third quarter of this year. While orders picked up in April through to August, other orders have been pushed back further into the year as companies adopt a "wait-and-see" approach before placing too much of a commitment on one set of technology.
TSMC, which is expected to make a processor for the iPhone 8 with a transistor channel length of 10 nanometers, has seen some interest in its products from non-Apple companies. But despite the fact Apple is expected to use advanced 10 nanometer technology, third parties are reportedly playing it safe by showing interest in 12-nanometer tech that works similarly to TSMC's 16-nanometer process.
A smaller channel length can mean greater performance and lower power demands, but supplying these chips at scale can prove costly with new manufacturing processes. The report claims that sales from the new iPhone will sustain demand for TSMC's 10 nanometer chips throughout early next year, suggesting the market won't move toward the advanced chips en masse this year.
The iPhone 8 will pack a lot of new features into one release, but it's expected to come at a cost. Some rumors place the price of device around the $1,000 mark, making it by far the most expensive smartphone the company has ever produced. Two more releases, the iPhone 7S and 7S Plus, may launch at the same time as the 8, providing a cheaper solution for those that want the highest-performance technologies.
A more recent rumors, about an updated 4-inch iPhone SE, suggests Apple could launch a smartphone around the $500 mark this year. If it turns out to be true, the company could enter the new year offering a wide range of price points for the latest chip technologies, something other companies could struggle to compete with.