Arcade Fire and the Pixies Fail to Explain Particle Physics at CERN
"It's so mega that it's hard to answer."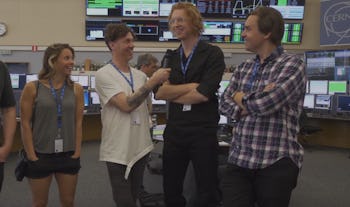 Youtube
Paléo Festival is happening in Nyon, Switzerland, this weekend, and someone thought it was a good idea to give some of the headlining musicians a tour of the European Organization for Nuclear Research (also known as CERN).
The Swiss-based, international research center devoted to physics posted a weird video Thursday of members of the Arcade Fire, the Pixies, and a shirtless Flea (of the RHCP) struggling to describe what exactly happens at the lab. While it's admirable that incredibly advanced research institutions like CERN are attempting to get the mainstream public interested in their important (if inaccessible) work, handing the mic over to celebrities can sometimes backfire.
Certainly out of their element, members of Arcade Fire tried to offer some vague approximations of the work being done at CERN — the place that birthed the world wide web and now hosts particle accelerators and other huge infrastructure needed for major physics research.
"It's sort of like explaining the way the world works, on the very fundamentals of the way things work," says Jeremy Gara. Okay.
One member, William Butler, did say that he's now learned that their song "Supersymmetry" is now "horribly out of date."
"It was kind of before Higgs boson and everything, so we're horribly embarrassed," he says with a laugh.
Black Francis from the Pixies offered that the experience of touring CERN left him "feeling very edified and perhaps a little bit confused."
At the end of the video, a shirtless, Flea gives a shoutout to CERN from backstage, saying he's "excited and curious" about science.
"It was a real honor to meet the people from CERN today, a place where amazing things happen and an infinite well of curiosity can be filled." Damn. Maybe Flea should look into hosting Cosmos if Neil deGrasse Tyson takes a pass at a second season.
Watch the whole awkward video below.