'Iron Fist' Star: I've Received 'Nothing But Love' From Fans
Finn Jones sidesteps the controversy around his role in Netflix's Marvel drama.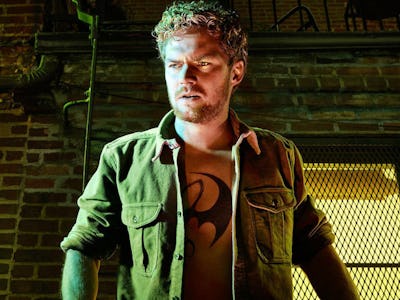 Iron Fist star Finn Jones, who once deleted his Twitter account after being bombarded with tweets from angry Marvel fans, now says he's received "nothing but love" from people for his titular role in the Netflix superhero drama.
"So far, since the show's come out and people have seen all 13 episodes, honestly I've received nothing but love and support for the character and the show," Jones told Inverse during a conversation at San Diego Comic-Con, ahead of a panel to promote the Marvel team-up series The Defenders. "I think people really understand where the character is coming from, and I'm really grateful for that."
In March, critics gave harsh reviews to the 13-episode Marvel adaptation, and fans accused the company of white-washing the Iron Fist character. Created in the 1970s, the martial arts expert character has always been white, but borrowed heavily from Asian culture; many fans, in turn, felt it was time to cast an Asian actor in the role of Danny Rand. Fans let Jones know as much on Twitter, and after he received blowback in response to a tweet he wrote about representation and diversity on screen, the outrage was enough to drive him offline for a short time.
Soon after, he gave a statement to Deadline trying to clear the air about the incident.
"After posting, I was inundated by people accusing me of not being allowed to share… based on an assumption that our show is going to play into the problems of racial inequality on screen," Jones wrote. "I engaged politely, diplomatically and attempted to bridge the divide. I'm currently in the middle of filming and I need to stay focused on bringing to life this character without judgment, so I decided to remove myself from Twitter for the time being."
Interestingly, Jones told Inverse something much different: "I don't read feedback," he said. "I bring the character to life as best I can with the scripts." And because he went right into shooting The Defenders after Iron Fist, he says he didn't hear anything about his casting that impacted his performance in the second Marvel show, either.
Whether he read it or not, the criticism hobbled the show, despite Jones giving multiple interviews in an effort to explain his support for racial diversity on screen. (The creator of the Iron Fist comic trashing the critics probably didn't help). Jones seemed to vaguely acknowledge the controversy on Friday as he continued his answer.
"I'm really grateful that Marvel fans can see through all of the noise," he said, "and can try to appreciate what we try to bring to life."
Jones did suggest that fans who tune into The Defenders, which hits Netflix on August 18th, might underestimate the character.
"I think the thing I want people to know about Danny going into The Defenders is that he's not a stereotype," he asserted. "Just because he's a billionaire, just because he is an orphan, just because he learns martial arts, that doesn't make him a stereotype superhero. There's actually a lot of layers and a lot of nuance to him. I hope people can appreciate the levels to the character, and not just see him on a basic level."
Soon after, at the Hall H panel for The Defenders, it was announced Iron Fist was officially renewed for a second season.