Halle Berry Pounds Pint of Whiskey at 'Kingsman' Comic-Con Panel
Halle Berry might be the best American ever.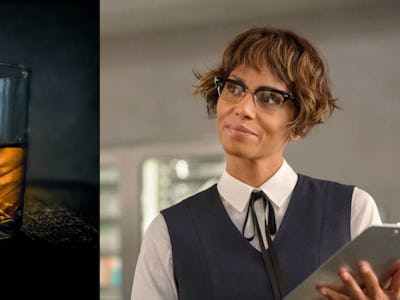 20th Century Fox, Pixabay
Americans stereotypically love whiskey, but the cast of Kingsman: The Golden Circle took it a step further at the film's San Diego Comic-Con panel on Friday. Halle Berry, who will be portraying an agent of the American equivalent to the Kingsman, the Statesman, in the upcoming Kingsman sequel, was challenged to chug a pint of whiskey on stage. She did it, then promptly fell down because she chugged a pint of whiskey on stage.
Berry proved herself a true American and worthy of the Statesman title on Friday. Berry's character Ginger seems to be the American version of Mark Strong's Merlin character, as both are termed the "brains" of their respective operations. But just because Berry's character is the level-headed, Q-style team member doesn't mean the actress backs down from a challenge; hangover be damned.
At Kingsman: The Golden Circle's Comic-Con panel on Friday, the newest cast members and agents of the Statesman were given shots of whiskey to throw back on stage. As an odd sort of joke, Berry was given a pint glass's worth of whiskey, which she laughed at and promptly chugged when egged on by her castmates and the crowd.
Fans captured the moment, with Berry coming out the other end triumphant and, probably, with more than a nice buzz. She stumbles at one point, but she gets back up like a champ.
Cowboy hats off to Halle Berry.
Kingsman: The Golden Circle premieres in theaters on September 22.