Anthony Scaramucci's Twitter Shows an Easing Attitude on Putin, Russia
From "legitimate threat" to 'hopefully nonsense will end.'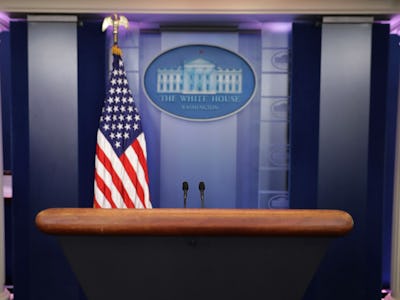 Getty Images / Chip Somodevilla
On Friday morning, President Donald Trump announced that the founder of hedge fund firm Skybridge Capital and frequent Twitter user Anthony "Life is Unfair" Scaramucci, would be the next communications director for the executive branch.
The announcement didn't come without dramatic protest within Trump's fractious White House: Upon hearing the news that Scarmucci would become the new communications director, press secretary Sean Spicer abruptly resigned; recent political reporting showed him to be frustrated by increasing disorganization among staff.
Scaramucci, a longtime Republican fundraiser and backer of Mitt Romney in the 2012 general election, is a prolific Twitter user, hitting media-class levels of tweeting — more than 16,000 missives since joining in March 2009.
A simple search of Twitter reveals that Scaramucci has tweeted three messages at the president, while Trump's never mentioned Scaramucci.
The tweets also show a shifting attitude on Russia from Scaramucci, who will no-doubt be hit with questions about the president's dealings — direct or indirect — with the Russian government during his campaign, as new information continually surfaces on the topic and the White House can be seen changing its positions.
Scaramucci's Twitter history shows he's long been a vocal critic of Russian President Vladimir Putin, notably sharing a Romney op-ed in Foreign Policy, titled "Bowing to the Kremlin."
August 2011, Scaramucci wrote that "Putin is wrong" after the Russian president said earlier in the month that America was a "parasite" on the world's economy.
In September 2012, Scaramucci warned that Russia wants to "crush us all."
On August 2, 2013, a day after Edwdard Snowden was granted asylum in Russia, Scaramucci declared that Russia was a problem for America:
Scaramucci lamented in 2014 after Putin's New York Times op-ed in September 2013 that we "have to be bummed about how we are being schooled."
Then, in March 2014, Scaramucci opined that Russia's attacks on Urkrainan republic of Crimea could lead to America "failing civilization as its leader."
In December, 2014, when the Russian economy was in severe trouble as gas and oil prices fell sharply, he declared, "Final pages of Putinism now being written."
He's also endorsed in the summer of 2015, Once Upon a Time in Russia, a book by Ben Mezrich that, according to the publisher description, is "the untold true story of the larger-than-life billionaire oligarchs who surfed the waves of privatization to reap riches after the fall of the Soviet regime." When the FBI stopped investigating Michael Flynn last month, Scaramucci was relieved: "Hopefully nonsense will end," he expressed with relief.
In March 2015, Scaramucci criticized Putin this way: "tyrants usually can't get out of their own way," and sharing an opinion article that declared Putin was "long and wrong on energy."
In December 15, 2016, Scaramucci appeared to exhibit a little whataboutism, a term used by the left to characterize the White House's strategy of deflection to the opposing party:
The same day, Scaramucci succinctly tweeted, "If Russia tried to subvert American democracy, deserves strong response. But allow pres-elect time to process intel."
Scaramucci has yet to tweet since the news of his new job was announced on Friday.