Obama's Presidency Could Be Bookended by Nobel Prizes
Eight years after handing him a Peace Prize, could Norway's most talked about committee shame the president by rewarding Edward Snowden?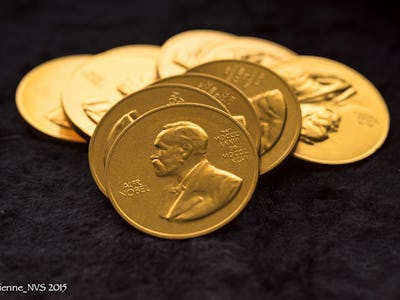 The Norwegian Academy of Literature and Freedom of Expression wants to give Edward Snowden a prize. In order to do so (without Skype), they need to hop a flight to Moscow or receive government assurances — after all, nothing ruins a party faster than an unexpected extradition. That's why the organization is working with Schjodt, a large law firm, to argue that Snowden's NSA leak was a political, not criminal offense, which would put parliament under no obligation to throw him on the next flight from Oslo to JFK.
Though the prize was announced this morning, the debate about logistics continues. The legal argument is fairly interesting if you want to geek out on Norwegian law, but fascinating with a bit more context. If the Norwegian Academy gets the go-ahead, the Nobel Institute does as well. Will Snowden win the Peace Prize? Probably not, but his name will certainly be floated by pro-privacy activists.
Some legal scholars are dismissive of the idea that the Norwegian government could or would give Snowden a European hall pass, but when government officials legitimize the effort by commenting on it, commentators are going to bum rush the podium to talk about whether or not the American intelligence communities shitty ex-boyfriend deserves a shiny circle. The reason this is inevitable is pretty basic: President Obama received a Nobel Peace Prize in 2009 for, in essence, questioning the efficacy of the Iraq War and communicating a general openness to non-Christian peoples. Six years of drone strikes later, the decision to give POTUS the award is easy for both hawks, doves, and birds of various other feathers to second guess.
An invitation to Snowden would essentially be a self-correction for the Nobel Committee. That's why it's probably not going to happen (think: Philip Roth and the prize for literature) and why we're almost certainly going to wind up talking about it anyway.