This Riley Reid Meme Is the Latest Iteration of Safe for Work Porn
You can look at these memes for more than a furtive 10-minute period, AND you won't have to wash your hands afterwards.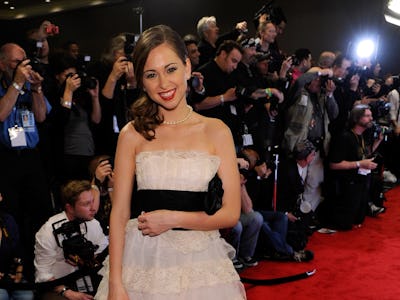 Getty Images / Ethan Miller
A screenshot of adult film star Riley Reid is the internet's newest "SFW porn" or "out of content porn" meme. The images repackage clips of adult film stars having sex into relatable content for those of us who are not 69-ing on the regular. For what it's worth, Reid hasn't commented on the meme yet.
According to Reddit user T1m_The_Enchanter, the newly meme'd screenshot is from Naughty Bookworms 43, a film about avid readers who don't return their library books soon enough, probably.
The photo in question shows Reid looking over her shoulder and commanding someone, who appears only as a hand clutching Reid's hair: "oh fuck put it back in!"
What is "it," exactly? That all depends on how vivid your imagination is. In Naughty Bookworms 43, it's most likely someone's penis. However, the internet has offered up a ton of better ideas. The picture was first used as a meme by Instagram account @bandmemes666 on June 30, according to Know Your Meme.
From there, the image spread to Twitter and Reddit, where it was repurposed in other contexts that make it technically appropriate to look at while in mixed company.
But this meme is far from the first to scrub pornographic material of explicit imagery for comedic effect. In the early 2000s, the concept of "SFW porn" was born on forums like Something Awful and YTMND. Comment threads spawned sloppy, MS-paint edited photographs where genitals transformed into snakes and turntables, and everyone was definitely clothed.
More recently, r/notgayporn revived this concept but added a little nuance. The memes on this subreddit pair gay porn screenshots with hyper-specific scenarios based on both the action and the dialogue connected to each image.
The increased sophistication of these memes mirrors the new nature of memes, which are now commonly transmitted via a social network like Reddit, Twitter, Facebook, or Instagram rather than a separate website.
This reporter cannot in good faith guarantee that looking at these memes in the workplace won't earn you a few raised eyebrows. But, technically, there's nothing pornographic about them, so go ahead and feast your eyes on the meme that wants to fill you until you burst … out laughing.
See also: "Pornhub Data Reveals Hilarious Porn Search Mistakes"