Archeologists Believe They've Found the World's Oldest Smiley Emoji
It's actually really cute.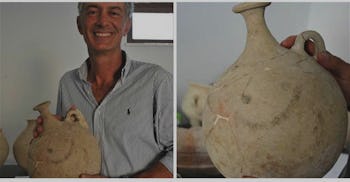 The Hurriyet Daily News
The world's oldest emoji, dating back to 1700 BC, has been unearthed in Turkey near the Syrian border. And no, it's not the eggplant.
Turkish and Italian archeologists discovered the smiley face emoji on a pitcher while excavating a necropolis site in Karkamış, an ancient city referenced in Egyptian, Assyrian and biblical texts.
This recent find knocks the previous contender for world's oldest emoji out of the water entirely. That smiley emoji was found in a Slovakian legal document in February. It dates back to a relatively recent 1635, which is kid shit compared to the ancient Turkish emoji.
Graphic artist Harvey Ross Ball created the smiley face in its modern incarnation in 1963 on commission for an insurance company, according to Smithsonian Magazine, and Japanese engineer Shigetaku Kurita pioneered the emoji for a phone company in 1999 to spice up text messages.
But this new find shows that the roots of the smiley face and the emoji run much deeper than we previously believed. Perhaps there have always been emojis. Perhaps there always will be.
Nicolò Marchetti, a professor at Bologna University and the leader of excavation effort that uncovered the emoji pitcher, said that it was probably used for drinking a sweet beverage.
"Most probably, [this depicts] the oldest smile of the world," he added.