Which Game of Thrones House Would Your State Follow into Battle?
According to data, America knows no king but the King of the North.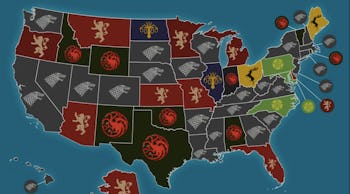 With the new season of Game of Thrones starting on Sunday, speculation around who will survive the oncoming winter and take the Iron Throne is back on everyone's minds. But when it comes to the ever-shifting fortunes of Westeros' royal houses, where do America's loyalties lie?
Enter new data obtained by Decluttr. Based on Google Search data, Declutter — a company that helps people sell stuff from their house online — discovered which Game of Thrones houses (get it?) were being searched for most in every state, using Google data. The findings gives us an interesting idea of what might happen if the entire nation was magically transported to the Seven Kingdoms.
The King (or Queen) of the North comes out on top, with 24 States pledging their search engine loyalty to the ever-decreasing Stark family. In America-Westeros, the House of Stark would nab some significant districts, with California, Nevada, Wisconsin, Utah and New York all in support of the North.
The Lannisters come in second with 10 states on their side, including Arizona, Florida, Michigan and Minnesota.
Despite her ability to conquer Mereen, gather multiple armies, and sail towards Westeros, America is not totally behind the Mother of Dragons. The House of Targaryen is ranked highest in just nine states, including Idaho, Wyoming, and Texas. Is there a western vibe to Daenerys Stormborn?
Even some of the smaller houses have gotten some love across the U.S., including the House of Greyjoy, and the House of Baratheon, which is popular in Ohio, for some reason.
Here's the full list of loyalties below:
Alabama - Targaryen
Alaska - Lannister
Arizona - Lannister
Arkansas - Stark
California - Stark
Colorado - Stark
Connecticut - Stark
Delaware - Lannister
Florida - Lannister
Georgia - Stark
Hawaii - Stark
Idaho - Targaryen
Illinois - Greyjoy
Indiana - Targaryen
Iowa - Stark
Kansas - Lannister
Kentucky - Stark
Louisiana - Stark
Maine - Baratheon
Maryland - Tyrell
Massachusetts - Stark
Michigan - Lannister
Minnesota - Lannister
Mississippi - Stark
Missouri - Lannister
Montana - Lannister
Nebraska - Stark
Nevada - Stark
New Hampshire - Stark
New Jersey - Stark
New Mexico- Targaryen
New York - Stark
North Carolina - Tyrell
North Dakota - Greyjoy
Ohio - Baratheon
Oklahoma - Targaryen
Oregon - Lannister
Pennsylvania - Tyrell
Rhode Island - Targaryen
South Carolina - Stark
South Dakota - Stark
Tennessee - Stark
Texas - Targaryen
Utah - Stark
Vermont - Targaryen
Virginia - Stark
Washington - Stark
West Virginia - Stark
Wisconsin - Stark
Wyoming - Targaryen
Game of Thrones Season 7 premiers on HBO July 16 at 9 p.m. Eastern Time.