The Night King Becomes the Big Bad in 'Game of Thrones' Season 7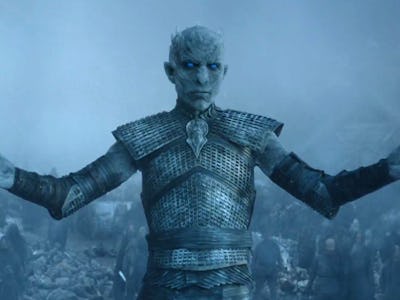 'Game of Thrones'
The end of Game of Thrones Season 6 might have shown Cersei assuming the Iron Throne to become a villainous queen, but the magical Night King unite the world of man against a common enemy. Winter is finally here, as are those much talked about "wars to come."
The actress behind Sansa Stark, Sophie Turner, spoke about the Night King to Hollywood Reporter at the July 12 Game of Thrones Season 7 premiere in Los Angeles. She said, "This season is all about the alive human beings coming together and sensing that there's a greater threat here, and there he is. You should be pretty afraid."
The Night King's army of undead will descend upon Westeros in Season 7. "All of the stuff that's been spoken about and all of the stuff that's been predicted, the scenes you have been debating — it's going to become reality," said John Bradley, the actor behind Samwell Tarly. After six full seasons of the Night King's undead army mostly seeming like a distant but looming threat, the icy king will bring the Winter Ned Stark always warned us about.
The Night King loomed large at the premiere, especially in the form of a massive statue outside of the Walt Disney Concert Hall:
Game of Thrones Season 7 will premiere on HBO July 16 at 9 p.m. Eastern.