Jeff Bezos Welcomes Elon Musk to the Gun Show
Welcome to the Sun Valley tech daddy conference 2k17.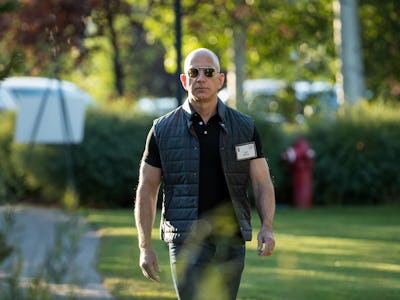 Getty Images / Drew Angerer
Jeff Bezos and Elon Musk have a longstanding, mostly friendly rivalry. The two online-business billionaires occasionally engage in rocket-measuring contests between their respective private spaceflight companies, but on Friday at the Sun Valley convention, Bezos made things physical.
Bezos showed up looking absolutely jacked on the first day of the Sun Valley Convention, an annual gathering of every suspected member of the Illuminati (read: the richest and most influential men and women in finance, tech, and media). Musk has yet to show up, and yes, ok, Bezos's current swol-ness has actually nothing to do with him, but for everyone's sake we hope Musk has been hitting the gym too.
Just look at this dude, walking into money-nerd-con 2k17 doing his best impression of buff J.K. Simmons from Whiplash. Bezos probably bought Whole Foods because he was fiending for a post-workout snack of two pounds of fresh Atlantic cod or something and just decided to buy the whole damn company.
Anyway, Musk isn't a stranger to pumping the iron himself. Check out this shot of him doing his best Trent Reznor from Nine Inch Nails cosplay from a few years back.
The internet had a lot of fun with the Bezos pictures as well.
There may be an actual reason besides Bruce Willis aesthetics that Bezos is going so hard at the gym. As Geekwire notes, Bezos is planning to go to space at some point. "I'll go up in New Shepard for the suborbital mission, then I'll go into space in our orbital vehicle as well at some point," Bezos told GeekWire in 2016 profile. "I want to go into space, but I want to do it in Blue Origin vehicles."
Regardless of the reason, though, you can't deny the results. Check out this side-by-side.
Musk, too, has made a pretty dramatic transition since the 90s, but instead of doing the Bruce Willis/ J.K. Simmons shiny-dome-but-yoked look he went for hair implants instead.
To be fair, they're pretty incredible implants.
The Sun Valley conference is funded by Allen and Company, a private investment firm that's been inviting the richest and powerful-est to an Idaho getaway once per year since 1983. It's where leaders of the most powerful corporations in the world can hang out and discuss deals, mergers, and business in relative secret, or, in the case of Bezos, flex on their rivals and whip out their biceps at any moment.