Tonight's the Night 'Chasing Coral' Hits Netflix
Get ready for beautiful and riveting suspense.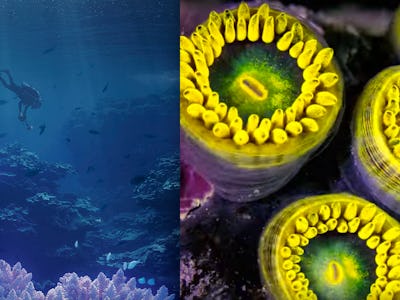 Netflix
The gripping coral reef documentary Chasing Coral finally hits Netflix tonight after a heralded premiere in January's Sundance Film Festival and six months of growing excitement. If the trailers and early reviews are to be believed, the 89-minute documentary will be a breathtaking, suspenseful ride: It follows a team attempting to document the ocean's wonders before climate change renders them too late.
If you've stayed up for the premiere of Netflix's original programming before, you know that new content debuts at 12:01 a.m. Pacific (Netflix headquarters are in Los Gatos, California), or 3:01 a.m. on the East Coast. So, if you live in Miami — off of which there are some seriously incredible coral reefs, incidentally — you're staying up until (or waking up at) 3 a.m. on Friday, July 14 to dive into what looks to be a captivating series.
Chasing Coral was produced by Larissa Rhodes and directed by Jeff Orlowski, the team behind 2012's Chasing Ice, for which this film acts as a sequel of sorts. Following the release of Chasing Ice, professional diver Richard Vevers approached them with the idea for an affiliated documentary about coral; the project's website says that it "took more than three years to shoot, and is the result of 650 + hours underwater [and] submissions of footage from volunteers from 30 countries."
Netflix announced that it had acquired Chasing Coral on January 21, the day that the film debuted at Sundance and a week before it won an Audience Award at the festival.
Here's Netflix's official synopsis:
"Coral reefs are the nursery for all life in the oceans, a remarkable ecosystem that sustains us. Yet with carbon emissions warming the seas, a phenomenon called 'coral bleaching' — a sign of mass coral death — has been accelerating around the world, and the public has no idea of the scale or implication of the catastrophe silently raging underwater."
Watch Chasing Coral on Netflix here, or preview a trailer below.
Early reviews of the documentary are laudatory.
"Rather than just a globe-trotting report on the crisis afflicting our oceans," says The Village Voice, the film "tracks a race to document." It's called "a devastating success, moving in its beauty and wrenching when that beauty withers: Acres of coral waste away to chalky ash before our eyes."
The New York Times describes the documentary as "a scientific suspense narrative" with "interesting personalities."
"The macro photography of coral polyps, thousands of which protrude from any given coral formation, yields imagery that is more awe-inspiringly peculiar than anything in sci-fi cinema," continues the Times review. "And yet this is part of our real world."
It is part of our real world — for now. Check out Chasing Coral for a vivid picture of what Earth could lose if humans fail to mitigate the effects of climate change.