Rumor: Tesla Might Be Headed for a Huge New Solar Partnership
Meyer Burger's solar cell technology could cut manufacturing costs by 50 percent.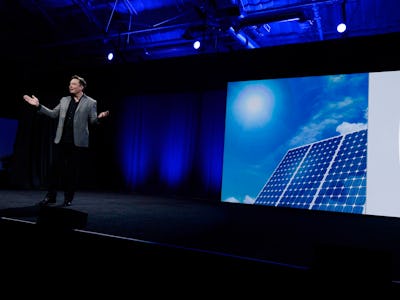 Getty Images / Kevork Djansezian
The future of Tesla is solar, and a new rumor on Thursday suggested that Elon Musk's electric transport and power company might be considering a partnership with Meyer Burger, a Swiss photovoltaics firm whose proprietary solar cell technology could cut manufacturing costs for photovoltaic cells by nearly 50 percent.
The rumor had been floating around financial channels for a few days, following an alleged meeting between Elon Musk and Meyer Burger CEO Hans Brändle. On Thursday, Axiom Capital Research's Gordon Johnson gave some weight to the rumor in a note to investors after probing his contacts in Meyer Burger's management. Meyer Burger "neither confirmed or denied" the meeting between CEOs, but noted that its solar cells are "significantly cheaper" than the ones made by Panasonic, Tesla's current producer for photovoltaic cells, the building block of solar panels. A Tesla spokesperson, however, told Inverse the rumor was not true in an email Thursday evening.
Meyer Burger specializes in heterojunction technology, or HJT, which uses a thin film of silicon to make solar cells more efficient and cost effective than traditional methods. The company claims its cells operate at 22 percent efficiency, which is on the higher end for commercially available cells. (Higher efficiencies are possible but cost-prohibitive for commercial use.)
The rumor alleged that Tesla wanted to buy manufacturing equipment that makes Meyer Burger HJT cells, which, according to Barrons, could bring cell-making costs down by 50 percent compared to Panasonic's HJT equipment.
Tesla is already locked into a partnership with Panasonic to produce solar cells at its second Gigafactory in Buffalo, NY, which should start production later this year. Any potential Meyer Burger partnership doesn't necessarily mean Tesla would ditch Panasonic, of course, but it's easy to see why the two companies could have a mutual interest in one another.
This story has been updated to include a Tesla spokesperson's response to Inverse.