'Pokémon GO' Fest in Chicago Has Special Challenges and Prizes
On July 22, it's going down in Chicago's Grant Park.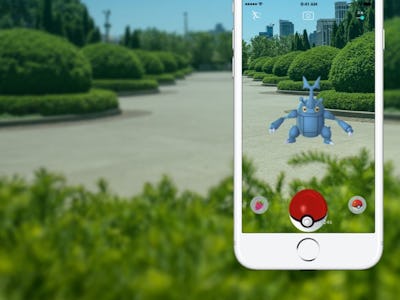 'Pokemon GO'
Details have finally begun to emerge about the first IRL event celebrating the 1-year anniversary of Pokémon GO's release, and though the entire world can participate in parts of the upcoming challenges, it will be up to the citizens of Chicago to unlock some exclusive awards for everyone. That means that millions of Americans will be powerless in the Poké-wars to come, unless they book it to the windy city for the sold-out event on July 22.
ThePokémon GO Blog released a bevy of information on Wednesday, unveiling a brand-new Pokémon GO Events page. Originally announced in early June, the Pokémon GO Fest in Chicago will be the only U.S.-based event as other events roll out in the UK, across Europe, and Japan.
An official site that created just the Chicago Pokémon GO Fest event reveals that there'll be special Pokémon, "including some that have never been seen before in Grant Park." Special PokéStops created just for the event will drop "special 2 km Eggs which can only be obtained in Grant Park." There's even team-specific lounges so players can meet their Instinct, Mystic, and Valor teammates.
The real kicker for the Chicago Fest is the exclusive challenges:
On the day of Pokémon GO Fest Chicago — July 22 — specific challenge windows will grant global perks to players. Catching enough Water-type Pokémon will grant an XP bonus. Only if the worldwide collective of trainers achieve "gold tier" (whatever that means) will a Mystery Challenge unlock for the trainers inside Grant Park. If those trainers are able to complete the challenge, then a "major global reward" will be made available to the entire world. Neither the "Mystery Challenge" nor the "extra-special bonus" reward has been announced yet, but Niantic promises that it will be worth your time.
Could it be a massive Raid-type boss located in Grant Park itself? Fans will have to wait and play to find out.
One thing is certain: If the rest of us don't get that super-special reward, then we have all of Chicago to blame.
Pokémon GO Fest Chicago runs from 11 a.m. to 8 p.m. Eastern, with global challenges throughout the day culminating in the Grant Park Mystery Challenge from 7 to 8 p.m. Eastern.
For a look at other Pokémon GO events, check out their official website.