We're One Step Closer to The Rock Running for President in 2020
For better or worse, we might be calling him Dwayne "The President" Johnson next election cycle.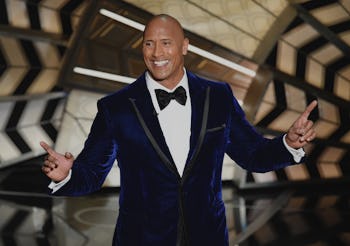 Getty Images / Kevin Winter
The first official campaign committee in support of a Dwayne Johnson presidency, "Run The Rock 2020," was filed with the Federal Election Commission on Sunday, because why the hell not, right?
In today's carnivalesque political atmosphere, the actor/WWE superstar/part-time meme isn't as unlikely of a candidate as he might appear at first blush.
The concept of a Rock presidency first entered the public discourse after he appeared on the cover of GQ's June 2017 issue, with an accompanying interview that made Johnson seem like a likable, genuine guy — and maybe even a viable candidate.
During the interview, Johnson called a presidential bid a "real possibility." The article went on to discuss his boundary-transcending appeal, due to both his ethnic ambiguity and his evident charisma.
In the magazine, the article ran with the headline "Vote The Rock." Online, the header reads: "Dwayne Johnson for President!" Subtle stuff.
But nonetheless, the suggestion was pretty tongue-in-cheek and was treated as such. Johnson appeared on SNL in late May and "announced his candidacy" with Tom Hanks by his side.
Sunday, however, marked the first official step towards Dwayne "The President" Johnson when a man named Kenton Tilford filed with the FEC. Tilford listed himself as both the Custodian of Records and the Treasurer of the committee on the Statement of Organization, a form that is required "if total contributions received or total expenditures made exceed, or are expected to exceed, $50,000 in any calendar year," according to the FEC website, although committees can still register without that expectation.
News of the campaign committee's creation received some amused support from Trump opponents.
But it also stirred up some backlash.
Johnson himself has yet to respond to the committee's establishment or the surrounding buzz, but if he were to move forward with a presidential campaign, his next step would be to file his Statement of Candidacy with the FEC. Whether or not he'll step into the political ring remains to be seen.
Tilford's Twitter bio lists him as the founder of Run The Rock 2020. The campaign committee also has its own Twitter account and a website that I signed up for twice but couldn't access because it said my email addresses weren't authorized.
But if you're interested in updates on the committee and don't mind refreshing your browser a lot, you can smell what Run The Rock 2020 is cooking here.