13 Great Under-the-Radar Movies From 2017 To Stream Right Now 
Blockbusters get all the attention, but these movies are worth watching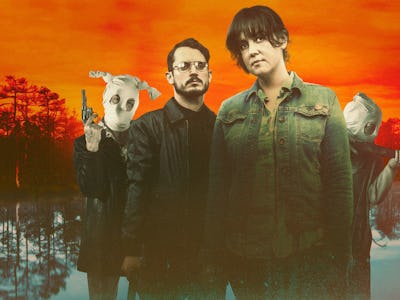 Between Logan, Wonder Woman, Guardians 2 and Spider-Man: Homecoming, 2017 has thus far been a pretty good year for superhero movies. But the onslaught of blockbusters — including other less successful franchise flicks like The Mummy, Transformers, and Pirates of the Caribbean 5 — has meant that most other movies have been forced out of the spotlight. Which is a shame, because the first six months of the year has seen the release of a lot of great independent and lo-fi films.
But while it's a bummer that most of these movies went somewhat (or entirely) ignored upon their first release, many of them are now available to watch at home via streaming. In the interest of promoting cinema about normal humans, we've put together this list of some of the best new indies out for home consumption; keep an eye on this post, which will be updated as new movies become available.
Win It All
The latest collaboration from prolific indie filmmaker Joe Swanberg and his everyman muse Jake Johnson, Win It All is a shaggy and charming story about a gambling addict who goes all-in in an attempt to finally get out. The movie cements Johnson as perhaps the most relatable leading man working today. The movie was released on Netflix.
The Lost City of Z
Director James Gray wanted to make an old school adventure film, and chose a legendary series of expeditions to put up on the big screen. Whether they happened at all like his film portrays is probably unknowable, but also besides the point; Gray's foray into the Amazon was made on location, and features great performances from Charlie Hunnam and Robert Pattinson. It's now streaming on Amazon Prime.
I don't feel at home in this world anymore.
Netflix bought this unconventional crime movie out of Sundance, where it won critics over with its quirky performances by lead Melanie Lynsky (who plays a depressed nursing assistant) and Elijah Wood (her unexpectedly likable weirdo neighbor). The two go on a spree of minor crimes meant to bring balance back to the world, but which instead set off a series of very unfortunate events.
Raw
A movie so bloody and visceral that people have passed out during festival screenings, this French-Belgian psychosexual horror flick is about far more than cannibalism. But it's also about cannibalism, so have fun!
The Happiest Day in the Life of Olli Mäki
This boxing movie is far from a Rocky redux. The film is based on a true story, about a champion Finnish boxer stuck in a battle between the expectations of his countrymen and a budding love that becomes impossible to ignore. Shot in black and white, it was a big winner at last year's Cannes Film Festival. Stream it at Mubi.
Catfight
NYC indie filmmaker Onur Tukel's highest-profile film yet stars Sandra Oh as a former NYC socialite whose life falls apart just as the fortunes of her college friend, a struggling artist played by Anne Heche, begin to rise. A chance encounter begins a rivalry that becomes very, very destructive. The film also features an incredible cameo by a very talented Inverse senior editor (in the far left corner of the trailer at 1:31). Available on Netflix.
The Transfiguration
Set in NYC, this is a creepy meta film about a kid who is obsessed with vampires and a new friendship that brings him closer and closer to that underworld. A hit at Cannes, it's now available on YouTube.
The Girl With All the Gifts
A more sophisticated horror movie, The Girl With All The Gifts looks at what happens when some zombies aren't just flesh-hungry monsters, but instead, flesh-hungry humans. Available to stream on Amazon.
Hounds of Love
Another movie about the horrors of living in the suburbs, and how the the the everyday, nondescript can be the absolute scariest (why do you think I live in the city?). Instead of a straight horror movie, though, this is a taut Australian crime drama, which is an increasingly rich sub-genre.
The Lure
Here's a genre mashup: An erotic Polish musical about murder and mermaids. If you're not convinced already, we don't know what else to tell you. Enjoy it on iTunes.
Abacus: Small Enough to Jail
Guess how many big Wall Street bankers went to jail over the financial crisis of 2008? Rhetorical question: The answer is zero, which is beyond depressing. But hey, at least the Feds came after a small family bank in New York's Chinatown, a bank that was built and operated by Chinese immigrants for the express purpose of helping members of the community! Directed by Hoop Dreams legend Steve James, the doc is a damning look at how our government privileges wealth. Watch it via PBS.
Shimmer Lake
Another Netflix joint, this one starring Rainn Wilson. As to be expected with a movie starring Rainn Wilson (ever see Super, James Gunn's last pre-GotG flick?), it's a very twisted dark comedy. And it's on Netflix, so you can and should stream it right away.
Buster's Mal Heart
Mr. Robot star Rami Malek features in this festival hit about, you guessed it, a paranoid young man who is alone in a world that he believes to be on the verge of falling apart. And once again, he's running from a past that he can barely remember. But still, Sarah Adina Smith's movie it's not at all a Mr. Robot ripoff, and deserves to be watched on its own merits, which you can do on Amazon.
Not Yet Streaming**
Colossal
The best American kaiju movie in years — including the Godzilla and King Kong reboots — comes from Spanish director Nacho Vigolondo. He combined his love of weird Japanese monster movies (and he likes some weird ones) with a very human story about a troubled alcoholic (Anne Hathaway) attempting to get her life back together. It'll be available to stream on August 1.
The Devil's Candy
Not quite a haunted house movie, but close — a living killer stalks a house that, despite warnings from a realtor, an artist and his family decide to buy. As you might imagine, it's a bad purchase. It will also be available to stream on August 1. It will also be available to stream on August 1. It will also be available to stream on August 1.