'The Lost City of Z' Director: Historian Critics Are Brainless
Filmmaker James Gray has no time for people demanding factual fidelity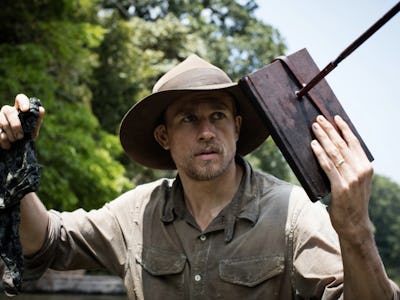 Director James Gray's new film, The Lost City of Z, has been met with mostly rapturous reviews, hailing it as an old-school adventure story reminiscent of the grand adventures that David Lean once put on celluloid. But the version of the story it tells, about the early 20th-century explorer Percy Fawcett and his obsessive search for the remains of an ancient civilization, has drawn criticism from experts.
Two op-eds published in British newspapers last month allege that Gray's film exacerbates the accomplishments of a man who was actually relatively unimportant and even somewhat contemptible. Here's what we know: Fawcett, played in the movie by Charlie Hunnam, spent parts of the first three decades of the 20th century making trips across the Amazon as a surveyor working for the Royal Geographic Society, mapping out parts of South America that had yet to be well-documented.
Here's what's alleged: The movie, which is based on a book by New Yorker writer David Grann, glorifies a man that explorer and historian John Hemming calls a racist and a nutter. Fellow explorer and author Hugh Thomson makes similar allegations in The Evening Standard.
Gray is well aware of the allegations, and was more than happy to address them when speaking with Inverse last week.
"They went on the attack, and I like that because if they're willing to attack you and want to attack you. It means that you got under their skin," he said. "At the same time, I just think they have no right being a movie critic, and what they're arguing is so absurd and idiotic, because I'm not making a documentary."
The Lost City of Z Isn't a Documentary, and Couldn't Be
Gray's first defense was pointing to the genre of the film: narrative feature.
"The whole point of this endeavor is not to get every fact correct, and by the way, you can't do that even if you wanted to," Gray said. "Because the knowledge we have of Fawcett is based upon a handful of things from the Royal Geographical Society, and additionally, a book called Exploration Fawcett, which are his diaries. And we don't know how much they were doctored by Brian Fawcett, his son [who published them]."
Hemming's article, in The Spectator, lays out a long list of facts about Fawcett's journeys pulled from the explorer's diaries, contemporary press coverage, and documents and accounts of Fawcett's trips given years later. He also touts his own work and many books, which includes a "three-volume, 2,100-page history of Brazilian Indians and five centuries of exploration." And yet, while Hemming's understanding of the Amazon — accumulated over five decades of research and exploration — is without peer, Gray suggests that Hemming's vast wealth of knowledge is beside the point.
"Mr. John Hemming is a great man in many respects and I'm not diminishing his accomplishments," Gray said, "but he's not a movie critic, nor is he a literary critic, and sometimes there's a greater truth we aspire to. It's not the facts on the ground."
It's Always About Class
Though a Canadian by birth, Hemming's parents were British, and the country has long been his home. He was educated in the UK and has lived there for the last 50 years. And not just as a middle class intellectual; Hemming is a member of the country's high society. His parents who were decorated with the Most Distinguished Order of the British Empire, and Hemming himself was honored by the Queen for his own exploits, as well.
This is pertinent because Fawcett, until his exploits in South America began, was a member of the middle class. Gray suggested this, along with the UK's ability to ignore its past flaws and sins, colors how people there view the man about whom he spent years making a movie.
"Tied up in this is a nauseating judgment of another person, which is so wrapped up with this British psychopathic attitude towards class," he said. "Buried in it is something disgusting: a moral superiority. Buried within that 'Fawcett was racist' is 'We're better. We know more; we're better.'"
It should be noted that Gray has long had a rivalry with the British press, which has often given less-than-enthusiastic reviews to his work, including films like The Immigrant and We Own the Night. So he's well-aware of the country's biases, especially when it comes to art criticism.
The Debate Over Context
In The Lost City of Z, Fawcett is portrayed as an open-minded man, motivated to disprove the day's racist theories about the "savages" of the rain forest. He makes multiple speeches insisting that the men he encounters up and down the Amazon are no different from his crew members or the white snobs back home. And yet, Gray will admit that Hemming is right when he says that Fawcett had bigoted, retrograde beliefs, a point that Gray says he acknowledges in the movie, but suggests is unfairly presented in op-ed pages.
"Well, Fawcett was racist — of course he was racist," Gray admitted. "But you can't judge a person outside of history."
Gray said a story in the Evening Standard that observed he "couldn't use the excuse that he was just a man of his time, 'because look at Teddy Roosevelt, look how advanced he was.'"
"Teddy Roosevelt believed in sterilization for lesser peoples," Gray says, pointing out the more troubling traits of the 26th president, who was also in many ways a progressive reformer. "Teddy Roosevelt was a eugenics believer. Teddy Roosevelt referred to the peoples of Africa as 'ape-like.' This is your example of a truly progressive person?"
Whither Shakespeare?
Hemming was outraged about far more than Gray's portrayal of Fawcett's racial enlightenment, or lack thereof. Both he and Thomson also challenged Fawcett's actual exploits and accomplishments as an explorer, which were, they say, initially exaggerated in Grann's book. Hemming calls Fawcett "an incompetent whose only skill was in surveying," and accuses Grann of creating "hype of an absurd order" around the explorer.
Again, Gray responds by claiming artistic license, and suggesting that capturing the spirit of a story is far more important than fidelity to literal facts. To argue his case, he invoked a few classics.
"Do you watch Raging Bull and you say that movie's a piece of shit because Jake LaMotta's brother character is a composite between his actual brother and his manager?" he asked rhetorically. "No, who does? What person of any brain would actually do that?"
And Gray had plenty more examples of stories that took artistic license — and even harsher criticisms for those that might complain about them.
"I will rescind all of my criticisms of the writers of those pieces if they go to performances of Richard III and they boo Shakespeare for his historical inaccuracies," he added. "And I will rescind it only because they are consistent, not because they're any less dumb."
The Lost City of Z is out in theaters on Friday, April 14, 2017.