A 'Freakshow' Character Returns for 'American Horror Story' S7
There are already plenty of clowns in politics.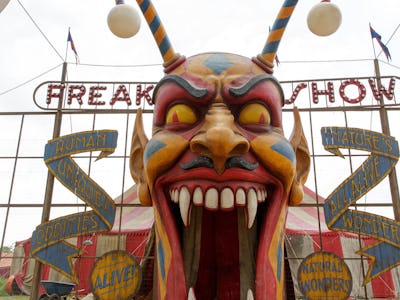 FX
As if there aren't already enough scary things going on in American politics, American Horror Story co-creator Ryan Murphy dropped another teaser for his 2016 Election-themed Season 7. Twisty the Clown is coming back.
Fans of the anthology series have already been treated to plenty of hints for what to expect from Season 7, most of which have come from photos Murphy shares on his Instagram account. His feed largely consists of photos of cast members with crazy colored hair amidst American flags and ambidextrous monsters. The latest in a series of clues is a shot of a Twisty the Clown comic book.
"He's Baaaaaack," Murphy wrote alongside the photo. The comic in the shot is held by pale hands in what looks to be a bedroom, with the infamous Twisty eternally grinning out from the comic's cover. Titled "Twisty the Clown Chronicles," the comic appears to be older (perhaps hinting that the events of Freak Show took place in the same universe as Season 7), as it's marketed as costing 10 cents, and promises "you will die laughing!!!!"
Murphy has said in the past that his intention is to eventually bring all the seasons of American Horror Story together, weaving them into a singular universe that will result in a crossover season; Seasons 1 and 3 (Murder House and Coven, respectively) are promised to crossover in the future. But Murphy has also mentioned that characters from Freak Show (Season 4) would be making a comeback. References to Finn Wittrock's Dandy Mott of Freak Show were made in the previous season, Roanoke, and it seems Murphy is looking to continue the trend in Season 7.
Here's Everything We Know About 'American Horror Story' Season 7.
American Horror Story Season 7 does not currently have a release date, but is expected sometime this fall.