Watch Every 'Star Wars: Forces of Destiny' Episode Right Here
Catch-up on the latest from the new animated adventures.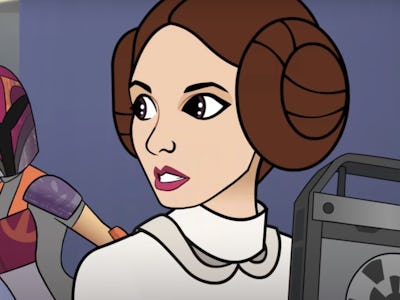 The latest entry to the Star Wars canon isn't one of the new films, comic books or popular videogames. Instead, small entries into the story of the galaxy, far, far away have been introduced in bite-sized episodes called Forces of Destiny. Focusing primarily on the female heroes of Star Wars, the episodes have featured literally every major era of the saga. From Rey to Leia, to Padme to Sabine, and even Jyn Erso, several tiny moments are revealed in each Forces of Destiny animated video.
The vast majority of these adventures serve as a kind of in-between stories set inside of existing Star Wars stories, sort of like deleted scenes you never knew you wanted. And they're all 100% canon. So far, eight Forces of Destiny clips have aired in total, with more coming every week. Here's every single offical episode you can watch online from Disney, plus cool things you'll find in each one.
"Beasts of Echo Base"
During The Empire Strikes Back, Princess Leia and R2-D2 have to save Chewbacca from a Wampa Ice monster. (Spoiler alert: several Forces of Destiny episodes feature our heroes dealing with monsters.) It's also notable that Leia is one of two character who isn't voiced by the actor who originated the character. Instead, Leia is played by Shelby Young in all the installments in which she appears. "Beast of Echo Base" also finally canonizes an old idea: that in addition to the Wampas slapping Luke in the face on the tundras of Hoth, there were ones lurking inside Echo Base, too.
"The Stranger"
Contrary to the tricky title, Albert Camus did not write this installment of "Forces of Destiny." Though, it's entirely possible Jyn Erso (voices here by Felicity Jones) could be a Camus fan. By the way, this is the first appearance of Jyn Erso in animated form. For some reason, her hair is much redder than it is in Rogue One. This story also seems to take place way before Jyn officially joins the Rebel Alliance.
"The Imposter Inside"
Taking place during the Clone Wars era of the Star Wars prequels, this one features a team-up between Senator Padme Amidala and Ahsoka Tano. In terms of having nan exciting plot, this one might be the most boss of all of the episodes if only because it features Padme and Ahsoka fighting a spy who really a shapeshifter. Padme isn't voiced by Natalie Portman, but instead actor Catherine Taber, who has played Padme on the Clone Wars cartoon since 2008. Meanwhile, Ahsoka is voiced by Ashley Eckstein, who has played the character since her first appearance in the very first episode of the The Clone Wars.
"The Padawan Path"
Ahsoka is promoted to a higher level of Jedi Knight at some point during the Clone Wars. Along the way, she fights a robot that looks like it got lost fighting RoboCop and somehow made it in the the Star Wars galaxy.
"Ewok Escape"
In a Return of the Jedi outtake, Ewoks give Princess Leia her nifty forest dress, and for some reason, decide they won't try to eat her.
"Sands of Jakku"
The very first Forces of Destiny episodes featured Rey (as voiced by Daisy Ridley) hanging out with BB-8 in a moment in the Force Awakens we didn't see. Monsters who like eating droids (like those ones on Dagobah) make an appearance here. Also, cartoon Rey has more freckles than movie Rey.
"BB-8 Bandits"
The second Forces of Destiny episode ever picked up where the previous one left off. This time, Rey and BB-8 have to fight a speeder bike gang.
"Bounty of Trouble"
This Forces of Destiny installment features a team-up between Sabine Wren(Tiya Sircar) from Star Wars Rebels and Princess Leia. This episode also features an appearance from IG-88, a droid bounty hunter who appeared briefly in The Empire Strikes Back. In the '90s IG-88 was such a popular side-character that he appeared in everything from comic books, to the video game Shadows of the Empire. But, since all of that old "Expanded Universe" material is no longer canon, having IG-88 crash the party in Forces of Destiny is a welcome return for the robotic bounty hunter.
More Forces of Destiny installments will air on the Disney Channel throughout July. Future episodes are expected to feature more of these same beloved characters, and Maz Kanata (Lupita Nyong'o) too! The very next episode of is called "Newest Recruit" and is expected to hit YouTube sometime this week.