Kesha Says UFO Sighting Inspired Her New Album
Close encounters of the third studio album kind, amirite?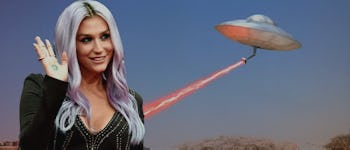 Getty Images
After enduring a hellish legal battle, Kesha is back with her first single in nearly four years, "Praying," and a new album titled Rainbow on the way. It's a hotly awaited album, and by all accounts, Kesha's putting a lot into it. Including, apparently, a UFO sighting.
During an appearance on the Zach Sang Show, on Friday, July 7, Kesha revealed that close encounter inspired aspects of the record, including the UFO-adorned album art and the song "Spaceship." Here's Kesha:
I was in Joshua Tree, totally sober. Let me preface: completely fucking sober. It's not a big deal, but I think people would be like, "She was on acid" or something. I wasn't. I was on nothing. I was a totally sober Sally, just lady in the desert. And I look up in the sky and there's a bunch of spaceships. I swear to God, there were like five to seven. And I don't know why I didn't, like, try to take a picture of it. I just looked at it. I was sitting on a rock. And I was like, "What in the hell is that?" And I was trying to figure it out. Then they went away. And then they came back. And then I was like, "Maybe there're are fires on a mountain, really high up in the sky." Then they went away and I was like, "Maybe the fires went out." Then they came back in a different formation and I was like those are fucking aliens! Those are spaceships!
Kesha needs to collaborate with former Blink-182 frontman Tom DeLonge — the biggest UFO truther in the music industry — as soon as possible.
Rainbow is set for an August 11 release date.