Sony Will End Contract With Dr. Luke Due to Kesha Controversy
Finally a step in the right direction for Kesha and her supporters.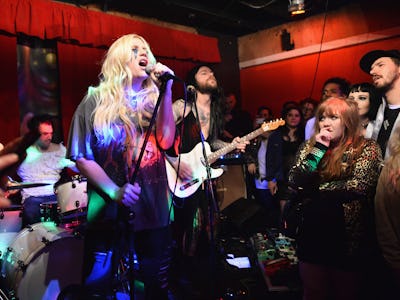 Getty Images/Katie Stratton
Finally, Kesha and her league of supporters have a much-needed win under their belts. Sony will reportedly end its long-standing relationship with producer Lukasz "Dr. Luke" Gottwald amid the controversy surrounding Kesha's allegations that Dr. Luke routinely sexually and emotionally abused her over the course of several years. The news means that Dr. Luke's contract will end a year earlier than it was supposed to.
Ever since a New York court denied Kesha's request for an injunction that would allow her to release music beyond her contract with her alleged abuser, Kesha has received worldwide support from fans and sympathetic pop stars including Adele and Lady Gaga. Although the allegations have yet to be tried in a court of law, the overwhelming support for Kesha has led to a widespread contempt for Dr. Luke, and subsequently, a public relations fiasco for Sony. A spokesperson for Sony declined to comment on the issue, but one can assume that Sony decided that keeping Dr. Luke on the label was not worth a public relations nightmare. Besides, Kesha is the biggest star on Dr. Luke's Kemosabe Record's imprint at Sony, and she hasn't released music since 2012. The fate of Dr. Luke's and his signed artists is as yet unknown.
Sony's dismissal of Dr. Luke is both a triumph and a reminder — of how convoluted these issues can be in the music industry. On the one hand, it's a huge win for Kesha and her supporters, after a lack of evidence undermined her claims. The disappointing ruling betrayed some major corruption in the music industry, especially in terms of binding contracts. At the same time, Sony — a major company who made money off Dr. Luke in perpetuity — is the first corporation to step up, and that's kind of depressing.
Kelly Clarkson, who has worked with Dr. Luke in the past, spoke up about being "blackmailed" into working with him, and Taylor Swift threw money at the issue. But Sony's alleged decision to drop Dr. Luke is the most direct action that's been taken thus far. Way to go Sony. You will not be missed, Dr. Luke.