Amazon Moves Up Prime Day Start Time by 6 Hours
Amazon Prime Day is actually 30 hours this year.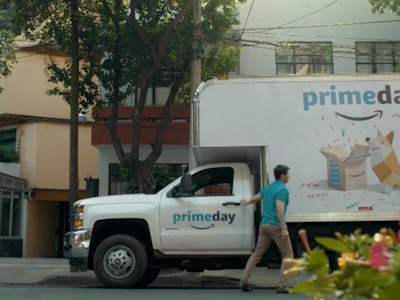 Amazon
Amazon announced this morning that it will begin its annual "Prime Day" a few hours early, so tonight at 9 p.m. Eastern or 6 p.m. Pacific.
Amazon Prime is the company's annual $99 subscription that includes various extra services from free two-day shipping to streaming video that's increasingly worked its way across the site since its launch in 2005 (then it was just free two-day shipping and discounts for $79 annually). Prime Day started in July 2015 as a sort of mid-summer "Black Friday."
With the 30 hours of shopping, Amazon is touting first its hackable Amazon Echo home assistant (the one that's powered by Alexa, its A.I. -powered Siri rival) for $90, which is a 50 percent discount. The Echo Dot, a stripped-down Echo satellite device, is $35. There's even a discount on the Echo Show, that camera-tablet thing that takes a picture and rates your outfit.
There are various other tentacles to this e-commerce bonanza, too. For example, if you already own an Echo, you cart start shopping even earlier, via your Echo ("Alexa, what are your Prime Day deals?" is the command), at 7 p.m. Eastern tonight.
Here the list of Amazon-made electronics that will go on sale at 9 p.m. Eastern tonight (there are also discounts on TVs, cameras, books, and more):
Save 50% on Amazon Echo, only $89.99
Save $15 on Echo Dot, only $34.99
Save $30 on Kindle Paperwhite, only $89.99
Save $40 on Fire HD 8 Kids Edition, only $89.99
Fire 7, our best-selling tablet, only $29.99
Prime members who haven't yet tried Amazon Music Unlimited can add four months of the full catalog streaming service for just $0.99 when buying Echo devices, Fire TV streaming media players or Fire tablets
Save $75 on Echo Show and Arlo Security Camera bundle
Save 30% on Echo Dot and TP-Link Smart Plug bundle
The full list of discounts is online, but the real question is, is Amazon going to do a Prime Week next year? Prime Fest? Prime Con?
See also: Amazon Echo Can Now Organize Your Life