'Spider-Man: Homecoming' Shoots Past Expectations at the Box Office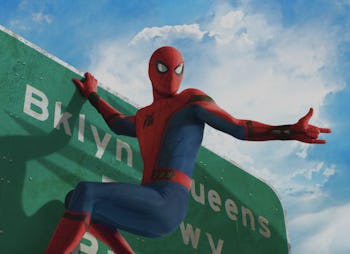 Marvel Studios/Sony
Look out, here comes the Spider-Man. The boy wonder that is Spider-Man: Homecoming totally charmed the domestic box office over the weekend, making $117 million in 4,348 locations.
And it looks like he's even a bit of an over-achiever; industry estimates predicted the film to make $90 million to $110 million over the weekend, while the studio was even more conservative, guessing it would make around $80 million upon its debut.
The summer blockbuster cost $175 million to make, so this opening weekend is a good indicator that Sony, Marvel Studios and Columbia Pictures (who all bankrolled the film) will come out just fine. The film has also made $140 million over its first international weekend.
As much as the film seemed like it was going to be a shoe-in for success based on critics' praise and a savvy social media campaign leading up to the release, it was still the third Spider-Man franchise to hit the big screen in the last 15 years. But gearing the movie towards a family-friendly, teen-centric cast seems to have paid off, as audiences appear to be ready for a summertime Spider-Man. On Rotten Tomatoes, the film has landed a 92 percent audience score.
Rounding out the top three at the box office over the weekend was Despicable Me 3 in second place, and the crime thriller Baby Driver in third.
Spider-Man: Homecoming catches up with Peter Parker (played by Tom Holland) as he begins to embrace his identity as Spider-Man. While frustrated with his rookie status as a friendly neighborhood superhero, his abilities are abruptly put to the test when he encounters a serious villain, the Vulture (played by Micheal Keaton).
Must Read: 'Spider-Man: Homecoming' Has Two Post-Credits Scenes