Watch the First 4 Mins of 'Spider-Man: Homecoming', Shot by Peter Parker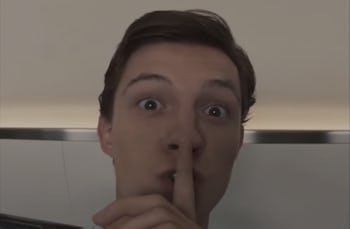 Marvel
Fans can now watch the first four minutes of Spider-Man: Homecoming online — if they don't mind being spoiled. For those debating whether hit play or not, there's no major spoilers for the plot of Homecoming. Instead the footage — shot by the friendly neighborhood crimestopper himself — catches Marvel fans up on what Captain America: Civil War looked like from Peter's POV via his video diary.
The footage also sets up some key relationships for Spider-Man: Homecoming, most notably Happy as Peter's de facto nanny. Tony also shows up with a pat on the back, a brand new suit for Peter (the same one he wore in Civil War) and a handy alibi for Aunt May. In case Aunt May asks, Peter was in Berlin for the prestigious Stark internship and definitely not stealing Captain America's shield.
While Tom Holland's casting sparked some debate on twitter last year — after all, did Marvel fans really need a third onscreen rendition of the same nerdy white boy in a decade when comics revolved around the mixed race Miles Morales — the footage showcases Holland nailing the tone of the character. While great casting doesn't quite make up for the missed opportunity, if the first four minutes are anything to go by, Spider-Man: Homecoming will be a totally joyous affair.