'Westworld' Season 2 Teaser Offers a Few Hints: 'We Need Help'
The web GIF references Robert Ford's new narrative.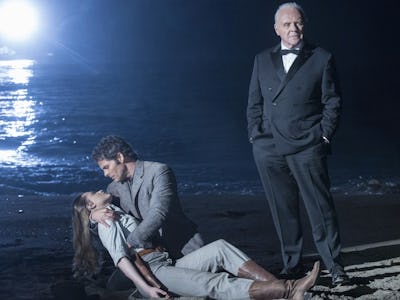 HBO
If you've been missing your weekly opportunity to unpack something unclear yet foreboding in the Westworld narrative, the show's website just posted a nugget to satiate your craving.
A new GIF has appeared on the Discover Westworld site, interrupting any activity upon entering the site with a freaky S.O.S from an "Unknown User."
"Is anybody out there? Something's gone wrong. We need help," the user says, before being cut off as "Journey Into Night" loads. A "Registered User" then begins to type instead, proclaiming that "All is well."
"Journey Into Night" is, of course, the name of Dr. Ford's new narrative for the park that came to being at the end of Season 1. It's also the title of Season 2's first episode, leading one to believe that the GIF is hinting at some action that will play out on the screen when the show airs again in 2018.
The GIF is a teaser for San Diego Comic-Con's Q&A session that will feature series' creator Jonathan Nolan, as well as 14 of the show's cast members.
Following the finale, we know that the hosts have risen and that chaos has descended upon the park. Based on this GIF, the new narrative is now up and running in some way. We don't know who is crying out for help (it's probably a guest, or at least a human person), and we don't know what the state of the park will be when the second season starts up. Nolan has said that Season 2 won't pick up right where things left off in Season 1, so this GIF could be signaling a Westworld of the future.
Reddit was already heating up with theories and reactions to the new website GIF. "This just shows how much Ford fucked over all the guests and other humans, by creating a system that will block communications and make it seem like all is well for as long as possible. God I love Ford," said a redditor going by the name TraderMoes.
"Gotta do something to keep you baited for 2 years," said another user, bazooopers.
Someone even tried to decipher the code used in the GIF, with mostly lackluster results. (Spoiler: A lot of it is pseudocode.)
If you're looking to get more clues about next season, hints are bound to be revealed during the San Diego Comic-Con Q&A on July 22. The event will be covered live on the official Twitter account. You can see the GIF for yourself and interact with Aeden, the Westworld website's robot, here.
The premiere date for Westworld Season 2 has not yet been announced.
Must read: The 7 Forgotten Westworld Moments to Remember for the Finale