NASA Says It Was Okay for Mike Pence to Touch That Thing
And the vice president is making a meme. What a time to be alive.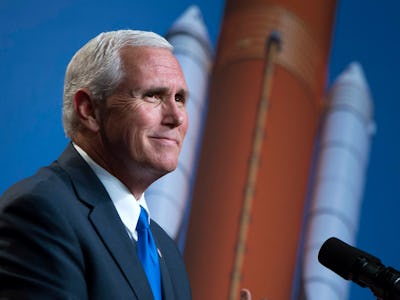 Getty Images / Bill Ingalls/NASA
If our nation's top politicians don't need to follow rules, then why should the rest of us? Vice President Mike Pence flagrantly ignored a prominent sign that said "do not touch" while visiting NASA's Kennedy Space Center on Thursday, and he reached out and palmed a section of the agency's new mega-rocket, the Space Launch System. Now, though, NASA says it's okay that he flouted the rules and touched the part.
My friends, this abuse of power is an injustice.
"It was OK to touch the surface," NASA tweeted on Friday afternoon. "Those are just day-to-day reminder signs. We were going to clean it anyway. It was an honor to host you!"
"Thanks @NASA!" the vice president's official Twitter account responded.
Pence touching the part caused a big commotion because he was in the Kennedy Space Center's Orion clean room. Despite the name, it's not the most sterile room NASA has to offer (other areas are cleaner than hospital surgery rooms), but still. It's a clean room, and the veep rubbed his gammy paws all over the thing without consequence.
Earlier in the afternoon, Vice President Pence pulled a classic politician move and attempted to pass the buck. In a tweet, Pence claimed that Florida Senator Marco Rubio, who accompanied Pence on the tour, dared him to do it.
Then, Pence, who succeeded the highly meme-able Joe Biden in the office of vice president, tried his hand at being a memelord (or his social media team did, at least).
I mean, it's better than a GIF of him wrestling CNN.
In conclusion, the folks at NASA sent a man to the moon, but they won't even send Mike Pence to the time out chair. Checks and balances my ass.