Spider-Man is the Hero Mets Fans Need and Deserve
The Amazing Spider-Man and Amazin' Mets are meant to be together.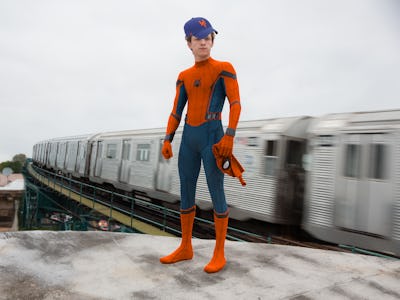 Peter Parker is a young, goofy, and often bumbling wannabe hero in Spider-Man: Homecoming, an underdog from Queens facing off against a richer, more powerful villain. And so it only makes sense that the young Spidey (Tom Holland) is also a Mets fan, an affiliation that is subtly but very intentionally emphasized in director Jon Watts's new movie.
Peter and his friend Ned (Jacob Batalon) spend most of their time nerding out about Star Wars and Legos, not baseball. But Peter's Mets fandom is unmistakable: In his bedroom, there are several Mets posters and decorations, including a pennant bearing the #31 of their Hall of Fame catcher, Mike Piazza. Here's why that matters:
The Mets retired Piazza's number around the time he entered the Baseball Hall of Fame in Cooperstown last year, which just so happens to be when Homecoming was in production. His pennant even says "Hall of Fame," which means Peter acquired it after he was bitten by a radioactive spider and started using his powers. You'd have to be a big fan to want to take time out to buy a pennant when you could be swinging across the city and climbing up skyscrapers, right?
Additionally, Parker wasn't even born when Piazza joined the Mets in a trade with the Florida Marlins, in 1998, so he'd have to be well-attuned to the team's history to even want a Piazza pennant; if he was just discovering the team, he'd likely have one with the name and number of outfielder Yoenis Cespedes or pitcher Noah Syndergaard (which would have been a good easter egg, since he's nicknamed Thor.
OK, I know I sound a little bit crazy, but that's part of the point: Mets fans don't often get all that much to be excited about. The team played its first season in 1962 and promptly set the record for most losses in a single season. There have been bright spots, including a few World Series championships and a recent run of great pitching, but for the most part, it's sort of exhausting to be a Mets fan. Especially because they exist in the same city as the Yankees, which, to mix Disney-owned fictional property metaphors, are like baseball's Evil Empire. Save for the 1980s and two years ago, the Mets have largely played second fiddle to the Yankees, who even beat them in the 2000 World Series.
I suppose it's nice to count Jerry Seinfeld, Chris Rock and other New York-born celebrities as fans. But practically, it mostly means seeing them hang out in luxury suites and high-fiving during big playoff games (a rarity), while we freeze out in the upper deck. They're comedy legends (Kevin James, separately, is also a Mets fan), but not heroes, per se, and certainly not relatable anymore. And Peter Parker just so happens to be the most relatable Marvel hero, a geeky kid who acquires through pure accident great powers, and then is plagued by the emotional distress they cause him for the rest of his adult life. Yep, sounds like a Mets fan.
And Mets fans have always been able to count Spider-Man as a member of their great, beleaguered family. As outlined nicely in this post by the Laser Time Podcast, Spidey has been repping the boys from Flushing for decades. He rooted for the team during a number of spots for the 1970s PBS show The Electric Company (which starred Morgan Freeman), got married at Shea Stadium (the Mets' home from 1964-2008) in the '80s, and throughout comic books throughout the years.
In a 2001 issue of Peter Parker: Spider-Man, our hero even waxed poetic about why he loves the team (other than the fact that they are both from Queens) while riding on the 7 train to Shea. "I guess I could always identify with the Mets, you know? A bunch of lovable losers who hit the occasional home run by accident. Just like me."
We know the feeling, Peter. Glad you're on our team (though we're also sorry about it).