Straight Men and Women Both Secretly Want to Be Dominated
One popular redditor's survey data suggests everybody's hoping to be tossed around a little more.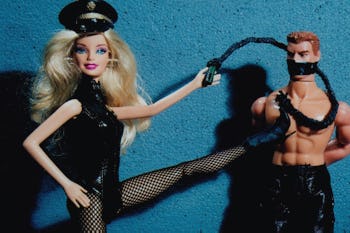 Imgur
No, you get on top.
On Tuesday, Aella, a popular redditor and social media exhibitionist, conducted an anonymous survey hoping to discover how "fucked up" her own sexual interests were when compared to the average. According to her Reddit post, she asked 479 cis women, 1432 cis men, and 61 people who identified as "other" what they were most interested in trying sexually. She then asked respondents to rate how "taboo" they believed their curiosities were. Her findings are pretty illuminating, and it's clear why you don't ever hear about professional submissives; only dominatrixes make money because the demand is high.
Everybody surveyed, regardless of gender identity, were interested in trying new sexual positions, and the whole group agreed that non-missionary positions aren't really "taboo" anymore. Non-missionary and light bondage, meaning slightly controlling your partner's mobility during sex, were the only acts that men and women agreed on wanting to try. However, when asked whether they'd like to get gently tied up or tie their partner up, most men and women answered, "Tie me up, please." That means we have a surplus of submissives walking around, and perhaps not enough dominants in the world to satisfy them.
The second tier of popularity included women using sex toys (men were super into that idea) and "females submitting" (women wanted to try this out a little more than men). Generally, male survey respondents liked the idea of watching (or simply knowing about?) their female partner using a vibrator, but they recognize that vibrator use among women isn't really that rare. Similarly, women were pretty sure that submissive play wasn't that taboo, but they were still interested in trying it out.
As for the most taboo stuff we all want to try but are too embarrassed to bring up, men thought their interest in "incest roleplay" was a risky move, and women expressed interest in "heavy bondage" and "rape-play," though they admitted that both kinks were controversial. That means a lot of women in the world are trying to figure out how to say, "pretend I don't want it," and a lot of men are simultaneously thinking, "But what if you were my cousin?"
There's a hilarious part of Aella's graph in which the men taking her survey seem to just name a bunch of taboo stuff they don't actually want to do. Vore (cannibalism), scat (playing with feces), bestiality (sex with non-human animals), pedophilia (assaulting children), necrophilia (having sex with a human dead body), sounding (inserting a vibrating rod into one's urethra), and "creepy crawlies" (pouring insects on someone) were simply called "taboo" by men, though their interest in all of those activities were low.
In 2014, a study published in The Journal of Sexual Medicine asked similar questions of respondents, though rather than have its users suggest their own kinks, it simply had them describe their interest level in a pre-determined list of activities. Their data showed the highest interest across gender identities for "having sex in an unusual place," though being dominated by a partner was popular among everybody back then, too.
By synthesizing some of the comparative data, a curious look at sexuality emerges: As it turns out, there are way more hopeful "subs" among us hoping to be lightly tied up by a "dom." Straight men and women know that this desire isn't all that unusual, but they're still very interested in trying it out and rank it high on their sexual "to-do lists."
You can check out Aella's full color-coded graph below. Her second survey, focusing on romantic relationships and monogamy, is available for users to take now.
See also: Hacked Sex Robots Might Leak All Your Kinks Across Your Social Media Accounts