A 'Severe' Battery Shortage Spiked Tesla's Car Deliveries in Q2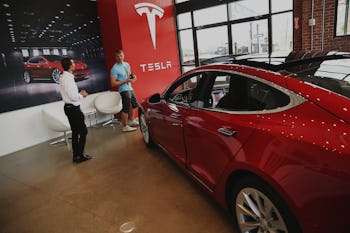 Getty Images / Spencer Platt
Tesla's delivery figures for the second quarter of 2017 are out, and it looks like Elon Musk's luxury electric vehicle company hit another snag.
On Monday, Tesla announced that it had delivered 22,000 Model S and Model X vehicles to customers during the second quarter of the year. That number, the company said, was about 40 percent below demand until early June, largely because of a "severe production shortfall" in the company's 100 kilowatt/hour batteries, the largest and most expensive pack the company offers.
The company says it delivered 12,000 Model S cars and just over 10,000 Model Xs. It's not the first time Tesla has failed to meet expectations on demand, which is a symptom of a larger trend across the company's customers. Tesla made its name as a luxury car company, and its vehicles boast a (literally) ludicrous list of add-ons, Easter eggs, and upgrades. And customers have proven time and time again that they're willing to shell out for pretty much anything the company decides to stick in there. Tesla's last significant delivery failure was caused by the company's self-admitted "hubris" in adding way too many gadgets and over-engineered technology to the Model X, and the company's woes this quarter are a less-severe extrapolation of that same trend.
The 100 kw/h battery pack is the largest Tesla offers; it's the pack that the company's top of the line P100D vehicles run on. A delivery shortage based on this pack shows that existing customers are consistently shelling out for the most expensive performance models rather than cheaper base-level Model S or X cars. While this is certainly inconvenient for the well-off electro-freaks that can afford a $140,000 sports car, it shouldn't be a concern for fans looking to get a new, (comparatively) affordable Model 3. The Model 3 has far fewer configurations and amenities than the Model S, and the largest battery pack it'll use is Tesla's 75 kw/h version — so even if Tesla boots it on the big 100 kw/h packs again, Model 3 production and delivery shouldn't be affected.
The company also says it managed to sort out the battery problem by June of this year and expects to bring up delivery rates in the following quarter, "provided global economic conditions do not worsen considerably" (i.e., if the stock market crashes, all bets are off). This could help Musk's plan to anti-sell the Model 3 in favor of pushing buyers toward the more expensive models — which, if the delivery rates are any indication, is going pretty well. The Model 3 will get its big reveal and first round of deliveries on July 28. If something happens to stall the smaller car's delivery schedule, it won't be the big battery woes of the Model S and X.