Elon Musk Just Revealed a Major Tesla Model 3 Event Coming Soon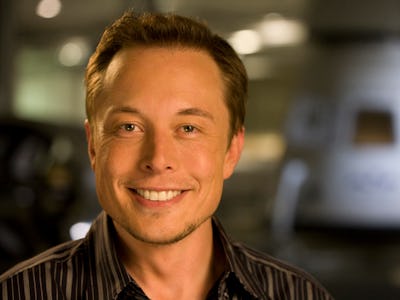 Flickr / OnInnovation
The wait is almost over. Tesla CEO Elon Musk revealed on his Twitter page Sunday evening that the Model 3 has passed all regulatory requirements "two weeks ahead of schedule," and the first production car should arrive shortly. To celebrate, Musk has announced possibly the most hotly anticipated event in the Model 3's journey: the launch party.
The Model 3 is an important moment for Tesla. The entry-level sedan will start at $35,000, far cheaper than the company's current cheapest car, the $68,000 Model S. The release opens Tesla up to a far wider market, and demand is expected to be high for a vehicle made by a company that, until now, has only made electric vehicles priced at a premium.
The first 30 customers will be invited to a special event, taking place July 28, where the company will hand over the world's first Model 3 vehicles. These lucky few will be the envy of the Tesla world: Over 400,000 people have put down a deposit to order the $35,000 car as soon as it hits the roads. The reservation backlog is so long that new orders are expected to arrive around mid-2018 or later.
It's exciting news, but customers will still want to know more about optional extras. Until now, the only thing we've known for sure price-wise about the Model 3 is its starting price. Pre-release models spotted on the streets of California since March have revealed the company is testing a variety of color options. Tesla may use the handover party to reveal how much extras like premium paint options, seating, and sound will set consumers back.
Musk also revealed that "SN1" (serial number 1) will be completed on Friday.
The company set itself the deadline of starting production on July 1. While it's uncertain whether Tesla met that specific goal, it appears the company has excelled at its attempt to meet a goal that even Musk described as "impossible." Musk explained to investors in May that the July 1 deadline was more to hold its suppliers' "feet to the fire" to ensure parts were delivered on time, making Tesla's achievement all the more impressive.
Musk also revealed that the company is expected to reach a production rate of 20,000 Model 3 cars per month by the end of the year, reaching its goal, set in February, of 5,000 cars per week. Currently, Tesla makes around 100,000 cars per year, but in February the company set itself the goal of producing over 500,000 Model 3 vehicles per year alone. It's an ambitious goal, but considering Tesla has managed to reach its Model 3 production goals until now, the future looks promising.