John Oliver Bought 5 Wax Presidents for this Bizarrely Good Sketch
"Sometimes the best way to lift your spirits it to see something monumentally stupid."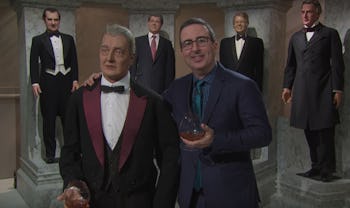 Youtube
When the Hall of Presidents and First Ladies in Gettysburg decided to shut their doors, John Oliver had an idea. The wax museum dedicated to politicians of the past was getting rid of their life-sized figures and he was intrigued.
Amazingly, he wasn't the only one — Rachel Maddow, Stephen Colbert, and Jon Stewart all bought one.
Not to be out done, Oliver revealed that the show had purchased not one, but five wax former presidents, displaying them regally on the July 1 show.
Why five? "We are five times stupider than any other TV show, that's fucking why," Oliver said.
If that wasn't stupid enough, Last Week Tonight decided to pulled together an elaborate biopic dedicated to Oliver's most favorite wax prez, Warren Harding.
According to Oliver, Harding had an incredible life story, and it's a shame nobody has made it into a major motion picture. "It would have to be someone with way too much time on their hands, way too many resources and unfettered access to a life-sized wax replica of former president Warren G. Harding."
You can watch the clip below, which features very famous non-wax actors Anna Kendrick, Laura Linney, James Cromwell and Campbell Scott.