Why Spider-Man's Famous Bully Was Fully Rebooted
Actor Tony Revolori unpacks the all-new, all-different Flash Thompson of the MCU.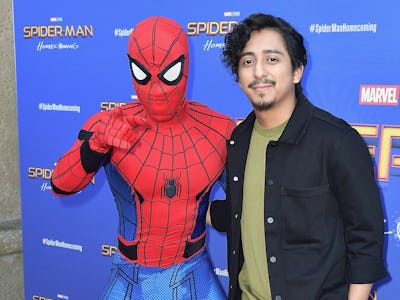 Getty Images / Gustavo Caballero
At first glance, Guatemalan-American actor Tony Revolori doesn't seem like an obvious choice to play Flash Thompson, the blonde haired, broad-shouldered high school bully in the Spider-Man comics. And Revolori, who's on the shorter side and has a mop of black hair that frames a soft baby face, knows it. "I'm definitely not Hitler's wet dream," the 21-year-old actor joked in a recent conversation with Inverse.
Upon his debut in Amazing Fantasy #15 in 1962, Flash was the varsity star of Midtown High who won the big game and made Peter Parker's life miserable. That is a bit cliché, so when prepping Spider-Man: Homecoming, director Jon Watts envisioned the kind of modern bully that teens today would actually recognize. "Nowadays, it's all about social media bullying," Revolori, who first grabbed attention in The Grand Budapest Hotel, explains. "It's the comments bringing people down." And for this new Flash, "it's rooted in one emotion: jealousy."
In Homecoming, Peter Parker (Tom Holland) is back after a life-changing experience with the Avengers. While adjusting to his new life as a superhero, Peter also struggles to keep up with the responsibilities of being a high school student. And Flash, Peter's rival on their academic decathlon team, is hell-bent on making Peter's life miserable. Flash won't stuff his targets in lockers anymore — surely Peter can outmuscle him now — but now it's even worse: Flash can start a whole house party to chant "Penis Parker" and put it up on Snapchat.
Inverse spoke with Revolori about the new spin on the character, and where Flash might go next.
This is a different kind of Flash Thompson than we've seen before. What is it about Tom Holland's Peter that sets off your Flash?
We see how effortless things happen for Peter, how smart he is. For Flash, it's a lot harder for him. He has to work at it, he has to study for it. Even though he's rich and living with this silver spoon, there's a guy who's poorer than him, and that should make him "lower" than him, but Peter is still smarter than him, despite that.
It's kid's jealousy: You go to high school and the stupidest things set people off. As kids you only see what you want to see, and it's the end of the world if it doesn't come true. That's Flash. Because he's so competitive, if he's not the best, it makes him angry, and he's disappointing people. By Peter being better than him, it makes him feel inferior. That's something a child psychologist can delve into, but it makes him feel rooted in hatred towards Peter.
What sort of conversations did you have with Jon Watts about your Flash?
We didn't have many, many talks since we were shooting a Marvel movie. It's busy, but during the beginning we'd talk about how do we make a social media bully? How is that person in real life? How do you bring that person into real life, that he's not anonymous?
We wanted to steer clear of the "jock" and everything like that. He would let me figure out how mean we can push it. I would make jokes about [Peter] being poor, or being fun of Ned being fat, and improv things, being as mean as I can. And then Jon would say, cut the fat jokes and focus on the poor, kind of guiding me on just being as mean as I can.
Was chanting "Penis Parker" one of those things that came from improvising?
We toyed with different alternatives, "Porta Peter," "Penis Parker," a bunch of others. That scene, I had to redo that whole ADR. My voice was dead. It was a night shoot, the sun was rising, and we gotta get the shot. My voice is already gone. Jon's like, "You gotta scream at the top of your lungs: PENIS PARKER." So I was screaming. By the end of it, I'm like [throaty], "I can't." But we toyed around with a lot of different options.
I understand the filmmakers researched real high schools while preparing for Homecoming. What specifically did you take from that research and place in the movie?
They had this decathlon teacher come in while we were shooting in Atlanta; she gave us a couple things on how kids act. They spit-twirl a pen and that intimidates opponents for whatever reason. You're all steely as possible. Things like that.
And sneaking out?
Not sneaking out. Most of these kids study constantly. This is their life to them. But I talked to cousins of mine still in high school, just kind of remembered what it was like. I didn't do that much research; just being around youthful kids creates that atmosphere anyway. Being on set, it becomes high school, because high school is a congested amount of kids who are horny and angry and all the emotions on the spectrum. On set, it's not exactly that, but you get close to these people, and it becomes what I call high school fever. Oh my god, did you hear this person is hooking up with that person? It becomes high school regardless.
Was there ever a concern about acting "too hard" as high school kids?
There's no way to act too hard like a high school kid. You could be a stereotype but even stereotypes are rooted in truth. So there's no way we could go too far with it, and I don't think we actually did.
Even though you are a different kind of Flash Thompson, did you still look at the comic books for research? What of the original Flash did you use in your portrayal?
I research a lot about what Flash does and what happens to him in the future. I didn't pay too much attention because this is a completely different Flash. I should not be thinking about that Flash when I'm doing this Flash since he's barely in high school.
It was fun to research the character, but there was not much I brought to it other than what I thought he was to Peter in the beginning, which was two things: Peter could have given up his identity and beat the crap out of flash, or he could have been responsible and not do it, which we have in this film. I wanted to make sure that was prevalent, Peter has to make a choice that this guy is forcing him to make, and of course, Peter Parker is the guy with responsibility, but we're seeing a young Peter tempted by it. What 15-year-old doesn't want to get the girl as Spider-Man?
Spider-Man: Homecoming will be released on July 7.