Crayola Announces Names for New Crayon, and They Kind of Blue It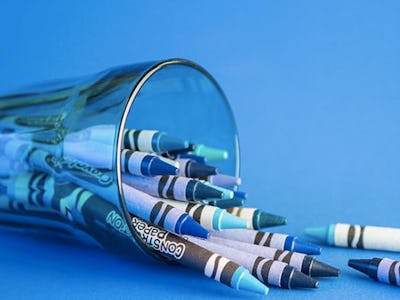 Crayola
Starting Saturday, you can have a say in naming Crayola's newest blue crayon, but you'll be forced to choose between an inspirational cliché and some pretty clumsy puns.
After receiving nearly 90,000 submissions, Crayola somehow narrowed it down to these five choices: Blue Moon Bliss, Bluetiful, Dreams Come Blue, Reach For The Stars, Star Spangled Blue.
Really, Bluetiful?
In March Crayola announced it would be retiring its Dandelion yellow crayon, making way for a new blue.
The story behind how the color came to be is actually far more interesting than the top contenders for its moniker. In 2009 a graduate student at Oregon State University named Andrew Smith accidentally discovered the brilliant color while researching materials for high-efficiency electronics applications. Smith and his research team realized after heating the electronic properties of manganese oxide that what emerged from the furnace was actually a uniquely blue color compound.
The pigment has since been patented. It contains the elements Yttrium, Indium, Manganese, and Oxygen. Unfortunately "YInMn Blue" doesn't quite roll off the tongue, and thus we're left choosing between Dreams Come Blue and Star Spangled Blue. Was Bluey McBlueface already taken?
You can cast your vote for the new crayon name here.