Facebook's Internet Drone Test Goes "Smoothly," Unlike Last Time
Facebook hopes these can fly for months at a time.
by Monica Hunter-Hart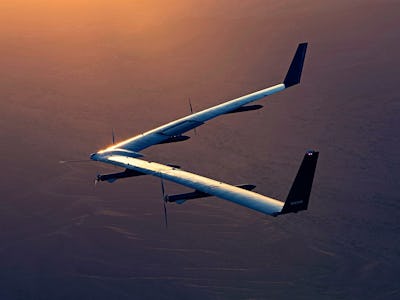 Facebook user: Jay Parikh
On Thursday, Mark Zuckerberg announced that "Aquila" — Facebook's internet drone prototype — has completed a successful test flight, which is significant milestone for the company's project to bring internet to new areas of the world. Importantly, Aquila "landed smoothly": When the drone alighted after its last flight, it experienced a mysterious structural failure about which the details are still unknown.
During this new test, which took place on May 22 in in Yuma, Arizona, the solar-powered drone was in the air for an hour and 46 minutes (16 minutes longer than last time). Facebook ultimately hopes to create drones that cover 60-mile areas and can stay up for months; the world record for unmanned solar-powered flight currently stands at two weeks in the air at a time.
"We successfully gathered a lot of data to help us optimize Aquila's efficiency," Zuckerberg wrote in the announcement.
Strangely, Zuckerberg is still acting as though last year's structural failure never happened: He called this latest test "Aquila's second successful flight," but it's a stretch to call the first successful when that landing accident is being investigated by the National Transportation Safety Board.
Possibly to dispel any idea that Facebook could be lying again about the test's success, a video shared with the announcement includes footage of Aquila landing.
Facebook's Vice President of Engineering elaborated on the landing in his own message: "While the aircraft has no landing gear in the traditional sense (it lands on Kevlar pads)," he wrote, "it landed perfectly on our 500-ft diameter landing site, which the Yuma crew has now dubbed 'Aquila Beach.'"
He also wrote that the drone "flew lengthy test points at constant speed, heading, and altitude to measure the airplane's drag" during the test, and that the engineering team "undertook extensive instrumentation of the aircraft's structure using accelerometers and internal force measurements."
This is an important step for Facebook in a week of landmark achievements. On Tuesday, Zuckerberg announced that the site has hit 2 billion users, which is about a fourth of the global population; because less than half of the world is online, Facebook has great incentive to help more people access the internet if it wants to significantly expand its reach.
Facebook isn't the only company dreaming up creative solutions to bring the internet to new areas of the globe: SpaceX has an ambitious scheme of launching 4,425 internet satellites in 2019.
Check out the video Zuckerberg shared of Aquila's second test below.