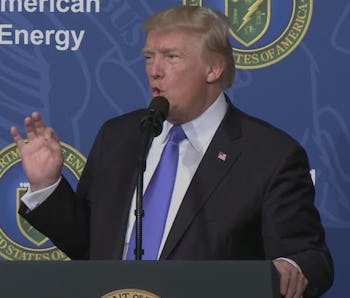 Innovation
Trump Announces 6-Point Plan to Make Money on U.S. Fossil Fuels
"We didn't think we had this tremendous wealth under our feet."
President Donald Trump frequently used the word "wealth" on Wednesday when describing natural resources like coal, natural gas, and heavy crude oil, before laying out six ways American businesses could sell off those resources for profit.
Trump thanked "pioneers and visionaries" from America's energy industry, who were in attendance at the Department of Energy headquarters in Washington, D.C. It's a "great industry," he said, adding that it it can bring "true wealth and prosperity."
"We're here today to usher in a new American energy policy," he said, noting that America had in the past been "vulnerable to foreign regimes that used energy as an economic weapon." He mentioned the gas shortage of the '70s, but also mentioned that the administrations of Barack Obama and George W. Bush before him had not gone easy on the industry energy.
"You've gone through eight years of hell and I could say a little bit more than that," Trump said during the speech, billed as the "Unleashing American Energy" event.
As he did on the campaign trail, Trump emphasized American sovereignty to the industry crowd: "We are really in the driving seat and we don't want to let other countries take away our sovereignty and let other countries tell us what to do and how to do it
As he's said before, Trump noted that he pulled out of the Paris Climate Agreement, but left the door open to rejoin:
"We've withdrawn the United States from the one-sided Paris Climate Accord. We weren't playing on the same field. It kicked in for us and it didn't kick in for others. Maybe we'll be back into it some day but it'll be on better terms, it will be on fair terms."
Here are the six points of Trump's plan, laid out in broad strokes from the podium, flanked by Vice President Mike Pence and Secretary of Energy Rick Perry.
1. Trump wants to "revitalize the nuclear energy sector" while creating "clean, renewable, emissions-free energy."
2. The Treasury Department will "address barriers of highly inefficient coal energy and sell American-mined coal to Ukraine." "We want to sell it to them and to everyone else all over the globe, who need it," he said.
3. Build a new petroleum pipeline to Mexico, "which will further boost American energy exports. And that will go right under the wall — go down a little deeper in that one section. Right under the wall," he joked.
4. Sempra Energy will "sell more American natural gas to South Korea. The leaders of South Korea are coming to the White House today, we will also be talking about them buying energy from the United States of America."
5. The Department of Energy will "approve two longterm applications to export additional natural gas from the Lake Charles LNG terminal in Louisiana. "It's gonna be a big deal, it's a great announcement," he said.
6. Off-shore drilling will expand. Trump said he wants to "unlock more of the 94 percent of off-shore land closed to development. Under the previous administration, so much of our land was closed to development. We're opening it up, the right areas, but we're opening it up. We're creating a new offshore oil and gas leasing program. America will be allowed to access the vast energy wealth located right off our shores and this is all just the beginning, believe me," he said.
"The golden era of american energy is now under way," Trump said, wrapping up. "The golden era of America is now under way."
It remains to be seen if these changes will all go through, but Trump, who primarily stuck prepared remarks presented to him on a teleprompter, has laid officially laid out how he wants make money on fossil fuels over the next "eight years," he commented. The speech didn't include any information about renewable energy: solar panels, wind power, and hydroelectric power were all ignored.
Watch the full speech below: