Netflix's 'Death Note' Is 'Completely Different' From the Manga
"The story itself so crazy and fantastic and you can interpret it in so many different ways."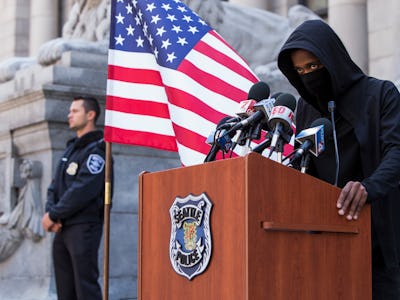 Netflix
In the story of Death Note originally a manga by Tsugumi Ohba, a model Japanese student named Light Yagami is blessed — and cursed — with the power to take life. With a supernatural notebook and a Japanese death god named Ryuk by his side, Light becomes the center of a storm that engulfs everyone around him. Blair Witch director Adam Wingard is bringing the Japanese smash-hit stateside with a Death Note movie that hits Netflix on August 25. In a new featurette, the filmmakers and producers sought to flesh out Wingard's vision, which differs from the original source material.
Although the skeleton of Wingard's Death Note is largely the same, there are some key differences. The story now takes place in Seattle, and the new film's anti-hero Light Turner (played by Nat Wolff) appears more aloof and angry than the original Light Yagami's composed madness. "I always thought that if I was ever going to adapt anything, I should do Death Note," Wingard said in the featurette. "The story itself so crazy and fantastic and you can interpret it in so many different ways."
Producer Masi Oka (Heroes) echoed Wingard's sentiments. "We definitely wanted to take what's great about Death Note, the light and dark and the moral ambiguity of killing someone for the sake of a better world," he said. "We are making Adam Wingard's vision of Death Note, [which is] something completely different." Oka said the filmmakers "had a bit more creative license to follow Adam's true vision and make it more of a dark, edgier Death Note."
The original Death Note was already one of the darkest and edgiest franchises in the mainstream anime and manga market, so it's pretty impressive that the American production sought to go even harder. But the film didn't seek to stray too far from the material; actress Margaret qualley, who plays the film's female lead Mia Sutton, said: "I think while still honoring the manga, Adam made something that felt new."
In the end of the featurette, Wingard ends with a sentiment tipping his hat towards the fans, who he hopes enjoy his version: "I hope the fans are happy because it definitely means a lot to me."
In a previous interview with Inverse, Wingard said that Death Note will be his most "insane" movie yet. "With Death Note I tried to give it a gritty, lived-in look. With that said Death Note is going to be my most insane movie yet. It makes The Guest look conventional."
See the featurette for Death Note below.
Death Note will be available to stream on Netflix on August 25.