Ryan Reynolds Welcomes 'Deadpool 2' Co-Star With 'Star Wars' Homage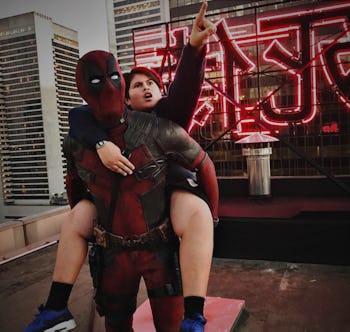 Ryan Reynolds
Just how much fun is Ryan Reynolds having making Deadpool 2? The actor behind the Merc With a Mouth shared a picture on Instagram welcoming one of his new co-stars for the hotly anticipated sequel, and they decided to make a Star Wars reference because, well, why not?
On Tuesday night, Reynolds revealed that Julian Dennison, an actor from New Zealand best known for starring in Taika Waititi's 2016 movie Hunt for the Wilderpeople, would be joining the cast of Deadpool 2.
"Giving Julian Dennison a warm 💀💩L welcome as we stare off into our beautiful future together," Reynolds wrote, cheekily using the skull and poop emojis along with the letter "L" to represent Deadpool's name. The accompanying photograph shows Reynolds, in costume, giving Dennison a piggyback ride. He's pointing off in the distance and making a great face. There's a neon sign behind them with illuminated Japanese characters on it, suggesting that Deadpool 2 might have something to do with the land of the rising sun.
It's not the first time that two actors have Instagrammed themselves in this pose, which is a reference to a scene in The Empire Strikes Back, where Luke gives Yoda a piggyback ride during his training. Back in April, Star Wars: The Last Jedi stars Mark Hamill and Daisy Ridley shared a similar picture, with Hamill doing a little role reversal and playing the part of Yoda.
It's unknown what role Dennison will play in Deadpool 2, but we should have a better idea by the time the film comes out on June 1, 2018.