An 'American Horror Story' Actress Isn't Coming Back for Season 7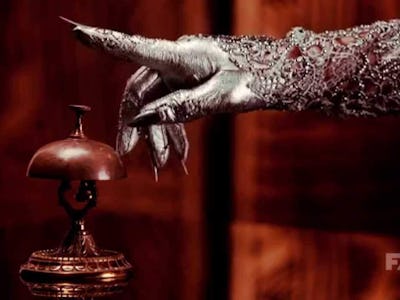 FX
Season 7 of American Horror Story isn't nearly as much of a mystery as Season 6 was, but there's still a lot about the election-themed season of the spooky anthology show that we still don't know. However, there's confirmation that one major actress won't be returning for the show. After two seasons, Lady Gaga is sitting out AHS this year.
Although a purported article in a leaked issue of Vogue suggested that the pop star would appear in Season 7, Entertainment Weekly confirmed that Gaga won't come back for Ryan Murphy's latest shlock-fest.
Gaga, whose legions of fans call themselves "little monsters," first appeared in American Horror Story's fifth season, Hotel, as a vampire countess. In the following season, Roanoke, she played Scáthach, an immortal witch and the original supreme who lived in the woods. In Season 7, she'll play nobody.
Gaga joined AHS the season after Jessica Lange, who starred in the first five season's of the FX drama, left the show. At the time, she was viewed almost as a big-name replacement, though it doesn't appear anyone of that caliber is hopping aboard for Season 7.
American Horror Story Season 7 doesn't have a premiere date yet, but in the meantime, here's a rundown of everything we know about it.