SpaceX Will Try Second Successful Droneship Landing in 3 Days Today
After a successful landing Friday, SpaceX moves onto the next one.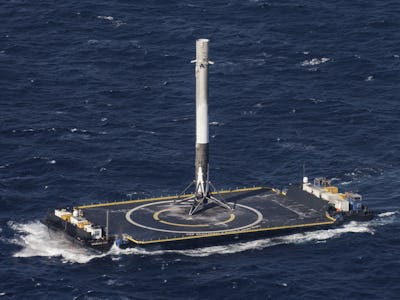 After SpaceX successfully landed a Falcon 9 rocket on a droneship in the Atlantic Ocean Friday afternoon, the company will attempt another droneship landing on Sunday afternoon, this time in the Pacific Ocean. The launch is scheduled for 1:25 p.m. Pacific.
SpaceX employs two autonomous droneships, ocean barges that have been transformed into rocket landing platforms, which provide targets for its reusable Falcon 9 rockets. On Sunday, the droneship Just Read the Instructions will position itself off the central California coast, near Vandenberg Air Force base, and wait patiently for a brand new Falcon 9 rocket's return to Earth.
Sunday's launch will send 10 more refrigerator-sized communication satellites into space for the company Iridium, which sent up its first batch of Iridium Next satellites upon a SpaceX rocket in January. Iridium plans to position 66 of these satellites in low-Earth orbit, building a globe-encompassing network of satellites.
On Friday, SpaceX employed a previously used and space-hardened Falcon 9 rocket to launch a Bulgarian satellite, the BulgariaSat-1, into Earth's geostationary orbit, a unique place 22,000 miles above Earth's equator where satellites are able to match Earth's obit, and stay put. This rocket touched — albeit a little "toasty" — down off the coast of Florida on the droneship Of Course I Still Love You.
These droneships are hardy structures. In 2015, a Falcon 9 booster landed hard and exploded on the ship's deck, but SpaceX CEO Elon Musk noted that "The ship itself is fine." Over two years later, the rocket company's droneship landing capabilities have dramatically improved, as it may stick its second landing in just three days.