How a Whipping Siphon Exploded and Killed a Fitness Blogger
The siphons have caused dozens of injuries in France.
by Monica Hunter-Hart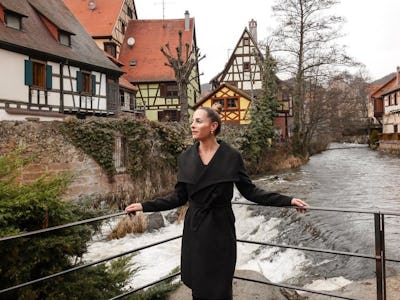 Instagram user: @rebeccablikes
On Sunday, popular French fitness blogger Rebecca Burger died of cardiac arrest after a whipping siphon exploded and hit her in the chest. In France, such accidents have occurred periodically in the last decade; here are the mechanics explaining why these appliances have been so dangerous.
A whipping siphon — not to be confused with the aerosol can of whipped cream found in most grocery stores — is a tool that adds gas to liquid. It's used to make whipped cream, as well as carbonated drinks and foam, and requires pressurized gas canisters.
The problem with France's many defective siphons lies in their plastic caps; numerous manufacturers didn't make the siphon cap strong enough to withstand the pressure that's exerted on the chamber to force the gas to dissolve into the liquid. When the pressure builds up, a weak cap can explode, causing the spray nozzle or gas canister to shoot out at a high speed.
The magazine 60 Millions de Consommateurs ("60 million consumers") has been raising awareness about whipping siphon accidents since 2010, and has documented 60 incidents in that time involving over 12 siphon models. "These figures are no doubt well below the real number of accidents," the magazine writes.
Over 20 of those accidents occurred with the Ard'time model that killed Burger. This siphon is no longer on the market; it was recalled in 2013, but only 25,000 of the appliances were returned, leaving 135,000 of them still out there.
The French newspaper La Parisienne reported that the recall was "too discrete" to effectively notify customers of the risk. "Many consumers do not know that they possess a dangerous utensil," a source from 60 Millions told the paper.
Ard'time has reinvigorated its advocacy about the recall since Burger's high-profile death.
Burger's family posted this photo of a whipping siphon on her Instagram page, noting, "The siphon that caused her death was sealed. Do not use this kind of utensil in your home!"
Are whipping siphons safe in France now? 60 Million reports that the devices made after 2015 don't appear to be dangerous.
However, the magazine also noted that using any whipping siphon — which also means ones made in the United States — involves some risk, particularly if the appliance is handled wrong (for example, if two gas cartridges are used) or falls (which could cause cracks or otherwise weaken the device). The French distributor Boulanger decided to completely stop marketing whipping siphons in 2016.
Despite all of this, whipping siphons remain popular in France, in part because of their vogue use on reality TV shows. If one good thing comes from Burger's death, it may be that the public becomes more aware of the risk they pose.