Daniel Day-Lewis Quit Acting and Everyone Made the Same Joke
"He's a method actor, so it's probably just for a role" — everyone on Twitter.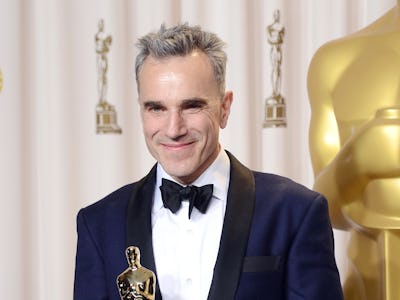 Getty Images / Jason Merritt
Daniel Day-Lewis, a three-time Academy Award-winner for Best Actor, has retired. The news came as somewhat of a shock when it broke on Tuesday afternoon, but it prompted everybody on Twitter to make the same joke: He's just preparing for a role.
Day-Lewis is, famously, a method actor. He learned to speak Czech for his role in The Unbearable Lightness of Being, confined himself to a wheelchair and demanded that the crew spoon-feed him meals during the entirety of filming My Left Foot, and insisted that everybody call him "Mr. President" on and off the set of Lincoln. So, naturally, news of his retirement got people wondering if the "retirement" was actually just the next level, cosmic-brain iteration of his method acting.
That, of course, isn't the reason his spokesperson gave when Variety contacted her. "Daniel Day-Lewis will no longer be working as an actor," she said in a statement. "He is immensely grateful to all of his collaborators and audiences over the many years. This is a private decision and neither he nor his representatives will make any further comment on this subject."
If you ask, uh, anybody on Twitter though, they'll say he's preparing to play a character who retires from acting in an upcoming movie.
…And on, and on, and on. To be clear, this isn't a bad joke, it's just kind of a low-hanging one. We can do better. Inverse editor Jordan Zakarin wanted me to be very, very clear about that, and strongly suggested that I embed his second, much-funnier tweet about Day-Lewis's retirement in this article after dragging him for his first one. Here it is: