Neil deGrasse Tyson, Bill Nye, and More Fight in 'Futurama' Short
Also, George Takei and Steven Hawking.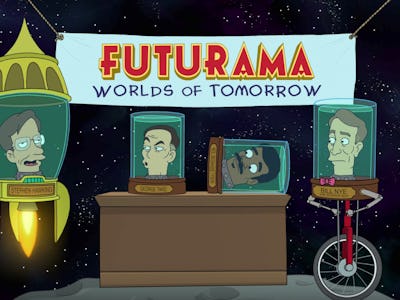 Futarama was one of the nerdiest, smartest shows on television — seriously, the writers' room was full of funny people who also happened to have advanced Ph.Ds. So, it's not surprising that some of the most popular figures in science jumped at the chance to lend their voices for a brand-new short.
The spot is a trailer for Futurama: Worlds of Tomorrow, an upcoming video game featuring new animation and the actors and writers from the original show. In it, Neil deGrasse Tyson and Bill Nye the Science Guy (appearing as disembodied heads in typical Futurama style), argue about who should be the rightful spokesperson for the game. That's when Steven Hawking's head swoops in, schooling Tyson and Nye by pointing out that they never even appeared on the original series, while he loaned his voice to the show three times. But, then Star Trek hero and geek icon George Takei shows up, boasting that he graced Futurama five times.
Naturally, it all ends in violence.
Futurama: Worlds of Tomorrow is a mobile game from TinyCo., the developer behind Marvel Avengers Academy and Family Guy: The Quest for Stuff. It will pick up where the beloved, thrice-canceled show left off, meaning you can enjoy all sorts of canon adventures with Fry, Leela, Bender, and the gang. Look for it on June 29 on the App Store and Google Play.