Marc Maron Needs to Play Stan Lee in a Biopic of the Comics Icon
The comedian's look in 'GLOW' makes him a dead-ringer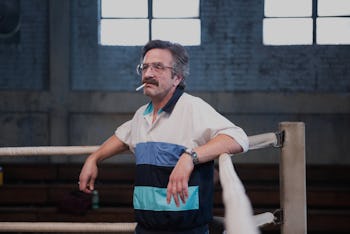 Netflix
Stan Lee has been a pop culture presence and larger-than-life figure for more than 50 years, a singular icon to generations of comics readers. And so while no one can really play Stan Lee but himself (which he's done in countless movies, age and acting aptitude will make that impossible when it comes time to cast the 1970s-set "biopic" of the Marvel Comics luminary. The next best choice? Another personality best known for playing himself: Marc Maron.
The 53-year-old comedian is not only the right age to play Lee in a movie set in the 1970s, he's a dead-ringer for the guy, too. This isn't necessarily obvious when looking at his headshot, but once you see him in the new Netflix series GLOW, it's impossible to miss. With a little bit of hair dye and aviator glasses, he looks just like Lee, down to his enthusiasm for nicotine.
Behold:
The resemblance isn't just physical. Maron has a New Jersey accent, while Lee talks like a New Yorker, which are similar enough. And they both have a certain wily charisma that is unique to them, if not exactly similar.
There are some obstacles, of course. Lee is always smiling, at least in public, while Maron is often a grouch. And while Maron isn't exactly a critically acclaimed actor, he acquitted himself well in the IFC comedy Maron (he played himself, natch), and is even better in GLOW, which hits Netflix on Friday.
The biggest issue is likely the tone of the proposed movie, which will be produced by Marty Bowen and Wyck Godfrey, is that it's not exactly a normal biopic. Instead of tracing Lee's life story, the plan is to have the movie be a '70s style action film, in the vein of "The Kingsman*, with Lee as a sort of Roger Moore-as-James Bond figure. Maron doesn't exactly have the action chops for that, but hey, Moore wasn't exactly the world's greatest athlete, either. And today, any deficiencies are addressed with stunt doubles and CGI, which means that Maron is still a better choice than Bryan Cranston.
This is all fan-casting, but hey, fans always signed letters to Stan Lee with "Make Mine Marvel."