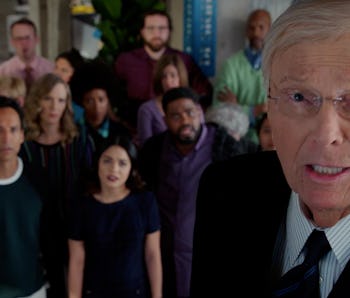 Entertainment
Watch Adam West's Final Performance as Batman's Colleague
The late actor joked that it was a pretty silly cameo.
In early June, Batman actor Adam West died after battling leukemia at age 88. Los Angeles lit up the night sky with a Bat signal in honor of the actor's long superhero-packed career. This week, NBC uploaded Adam West's cameo Powerless episode, which never aired because the superhero sitcom was cancelled.
West is his goofy self in the half hour comedy, playing Dean West, chairman of Wayne Industries. Recently, he lent his voice to the critically acclaimed animated comedy based on his original Batman sitcom in the 60s. His bizarre and lovable paintings, many of which depicted classic era Batman villains, spent Christmas 2016 on display at the Gilman Contemporary in Ketchum, Idaho — his hometown.
Though Powerless, a comic book-inspired TV show that shared a similar, zany tone with Adam West's Batman series, was cancelled, critical reception has come to regard the 60s era comedy as classic Batman fare. In fact, West's version of Bruce Wayne still stars in DC Comics, in which he even teams up with Lynda Carter's campy version of Wonder Woman.
Watch the full Powerless episode below.
Powerless has been cancelled by NBC. See also: The bat signal ignites the Los Angeles sky in memory of Batman actor Adam West.