You Can Buy Luke Skywalker's Original Lightsaber (If You're Rich)
An elegant auction item for a less civilized age.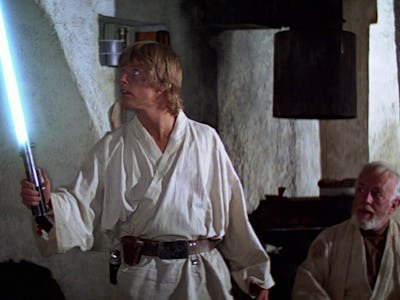 After being lost in the atmosphere of Bespin along with Luke's severed hand in Star Wars: The Empire Strikes Back, the famed blue Skywalker lightsaber drifted through space for more than 30 years before finding its way to the most unlikely of owners: Star Wars producer Gary Kurtz, who is now selling the prop for charity on Invaluable.com.
The official description for the auction item reads:
"This particular version is constructed from an existing Graflex flashgun from the 1930s, measuring 10.5 in., and is fitted with resin black grips around the base attached with adhesive and rivets, as well as a D-ring riveted on the bottom to attach to Luke's belt."
The prop is the "non-fighting version" of Luke's famous weapon. What this most likely means is that this is what you might call the "unlit" version of the lightsaber — the one seen hanging at Luke's waist or being used to casually gut a Tauntaun.
The "fighting version" looked more like this:
The live auction for the lightsaber is set to take place on June 28, 2017 at 2 p.m. Eastern. The item is adequately titled "Mark Hamill "Luke Skywalker" hero Lightsaber from Star Wars and Star Wars: The Empire Strikes Back."
As of right now, the bidding is slated to begin at a cool $150,000 with an estimated value ranging up to $250,000. That, of course, doesn't mean that the auction will be limited or capped in any way.
When all is said and done some half-witted, scruffy-looking nerf herder is going to buy a prop for at least $150,000. Will it be you?