It Will Be Hard for Trump to Cancel Cuba Vacations
"It's basically a lot of window dressing."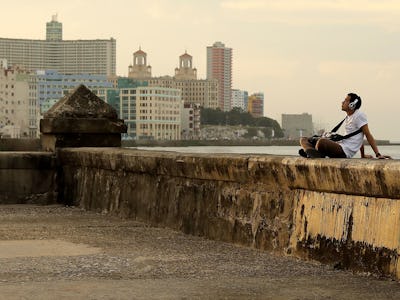 Getty Images / Chip Somodevilla
President Donald Trump changed the rules for traveling to Cuba on Friday, cracking down on some of former President Barack Obama's lenient guidelines for visiting the island nation. But Cuban vacations are still possible, if a little more complicated, a Cuba travel expert tells Inverse.
Trump's new ruling prohibits Americans from participating in commercial transactions with the Cuban military, which controls much of the tourism industry there, saying that it contributes to the regime established by the late dictator Fidel Castro. That specifically makes recreational travel for non-Cuban Americans slightly more difficult.
"We now hold the cards. The previous administration's easing of restrictions on travel and trade do not help the Cuban people," Trump said during a speech in Miami's Little Havana neighborhood on Friday. "They only enrich the Cuban regime."
Experts say that Trump's new rulings are basically "window dressing" that leaves much of the lenient Obama-era restrictions in place.
It appears what Trump is really trying to crack down on is travel that utilizes military or regime-owned hotels. Here's what's changed under Trump's new rules: Under Obama, many visits to Cuba could be justified as "people to people" excursions. Now, you can't justify a trip to Cuba as a "people to people" trip unless it's through a U.S. Treasury Department-licensed group.
Private trips are not completely sunk, says Giancarlo Sopo, chairman of the CubaOne Foundation, which sends young Cuban Americans on trips to the island to reconnect to their roots.
"They just have to mark off a different box," Sopo tells Inverse. "In essence, that won't change much, and it would actually stimulate Cuba's private sector."
Sopo explained that one of the Obama-era justifications for traveling to Cuba, a clause known as "supporting the Cuban people," would still work for a lot of personal travel, as long as travelers were careful to stay in privately owned establishments (Airbnb is active in Cuba, and that works). Trump's speech, widely heralded as a "crackdown" on the Castro regime, "was aimed at his domestic political base," Sopo said, and left many of the existing systems intact.
"Effective immediately, I am canceling the last administration's completely one-sided deal with Cuba," Trump said.
Instead, Sopo says that the speech was more of a "shift in rhetoric," but not so much a shift in actual policy, other than making a slightly more pointed effort to funnel U.S. tourism dollars away from businesses owned by the Cuban regime. The problem, he says, would be if Americans misinterpret Trump's speech.
"The Devil's in the Covfefe"
"The devil's in the covfefe," Sopo joked, referencing the president's unintelligible tweet on May 31. "If Americans see these new regulations and get scared, and decide not to travel to Cuba because they're confused who the policy might affect them, then that could be problematic. More than anything, the administration has to thread the needle very carefully so that these policies aren't misunderstood."
Sopo said he was very interested to see the final details of how the policies are written, because all of this could change if the Trump administration changes the definition of "supporting the Cuban people."
As it is, however, travel to Cuba is still a go — the embassy will remain open, and travel for Cuban Americans with family members in the country remains unchanged. Trump, naturally, didn't mess with Obama's rule allowing American citizens to bring back as much Cuban rum and cigars as they wanted. If you're planning to go to Cuba, make sure you do some research first — things change fast in the current political climate — but for a dedicated traveler, getting a taste of Havana is far from impossible.