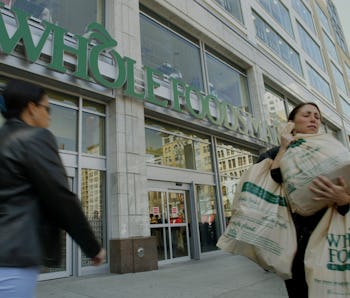 Innovation
Whole Foods Could Become Amazon Pick-Up Centers
Goodbye deliveries. Hello DIY pickups. 
Getty Images / Monika Graff
On Friday, Amazon announced it would acquire about 450 Whole Foods brick-and-mortar grocery stores in some of the nation's best neighborhoods.
What exactly they'll do with all that Whole Foods real estate, which cost them a cool $13.7 billion, remains unclear. But those have been watching Amazon over the past few years think the answer is obvious. The online retailer has long wanted to cut down on tedious, expensive deliveries and instead get you to pick up your own stuff from the store.
By buying Whole Foods and its retail spaces in 42 states, Amazon has more pickup centers than ever before.
In 2011, Amazon rolled out lockers. Instead of listing their home as the address for delivery, customers could plug in a locker location. There, the order would be stashed until customers could pick them up using a special code. Today, there are now over 1,800 lockers in more than 50 cities. But that wasn't enough. In 2015, it opened up its first physical bookstore in Seattle and seven more have popped up around the country and five are on the way. In December 2016, it also opened a cashier-free grocery store on its Seattle campus.
Most interestingly, however, is the company's Amazon Fresh Pickup program. Available at just two Seattle locations, it allows Amazon Prime members to order online and pull right up to the pickup location as soon as 15 minutes later to collect their groceries. It seems the Fresh Pickup model may be what Whole Foods can offer Amazon, on a national scale.
Bu Jeff Bezos seems likely to push his company to take it one step farther. Amazon-owned Whole Foods won't just offer groceries and few high-end home goods. They'll be micro-fulfillment centers, adding to the 90 such centers Amazon already runs. Whereas existing fulfillment centers are huge, industrial, and off limits to the public, Whole Foods will be contained and open as ever. As a result, customers won't just be buying kale and goat cheese. They'll also be able to pickup a yoga mat or return their broken headphones. Essentially, it'll be as if Amazon opened up 400 high-end, customizable Walmarts on a well-trafficked street.
For people who love home delivery or believe wholeheartedly in the promise of the web, Amazon's forceable foray into the physical world might be a little off-putting. But turning Whole Foods into super-sized lockers will have its benefits, for the company and its customers. Namely, Amazon will get to cut down on the cost of deliveries — and shoppers may not have to pay as much for shipping, either.