'Batman' Composer Danny Elfman Will Score 'Justice League'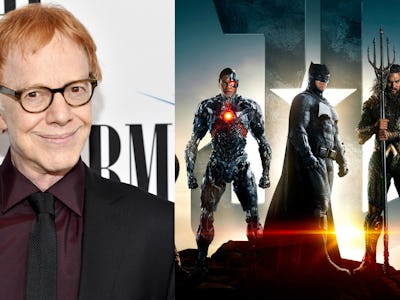 Frazer Harrison / Getty Images, Warner Bros.
Fans of the grim, moody score to Tim Burton's 1989 movie Batman are in for a treat. Composer Danny Elfman, whose body of work includes Batman, The Nightmare Before Christmas, and Spider-Man, will replace Junkie XL to compose the score for Justice League which hits theaters in November.
Elfman's involvement, as told by The Hollywood Reporter, comes about a month after Joss Whedon was enlisted to replace Zack Snyder who departed the film's reshoot/postproduction phase to deal with a family tragedy. Snyder, who collaborated with Junkie XL on Batman v Superman: Dawn of Justice, was working again with the Dutch DJ to score Justice League. But with Whedon now at the helm, it seems the new director wanted a familiar artist along for the ride. Whedon and Elfman recently worked together on the score of 2015's Avengers: Age of Ultron, writing music in addition to Brian Tyler's contributions.
Junkie XL, whose real name is Antonius Tom Holkenborg, is taking the replacement in stride. "As my mentor Hans Zimmer told me — you haven't made it in Hollywood as a composer until you get replaced on a project," he told THR. "So I guess [I] finally graduated this week. It pains me to leave the project, but a big thanks to Zack for asking me to part of his vision, and I wish Danny, Joss and Warner Bros all the best with Justice League."
Elfman is no stranger to superhero movies. The L.A. composer, whose first major score was for the bizarre fantasy film Forbidden Zone directed by his brother, rose to prominence scoring for Tim Burton movies like Pee-wee's Big Adventure, Beetlejuice, and later Batman.
Elfman stuck around for the comic book boom, scoring the first two Spider-Man movies for Sam Raimi, Ang Lee's Hulk, Timur Bekmambetov's Wanted, and Guillermo del Toro's Hellboy II: The Golden Army in 2008. He then contributed to's Avengers: Age of Ultron.
Justice League comes out on November 17, 2017.